SL Uni Students group wins at Tech4Good at Huawei Seeds for the Future, qualifies to finals in Jan 2022
18 University talents from 6 SL Universities graduates from Huawei Seeds for the Future
Team 'Futurecasters' representing 10 university talents among the 18 young Sri Lankan university talents who recently took part at the Huawei Seeds for the Future became winners of the Tech4Good project in their class group among the student teams from Singapore, Brunei and Sri Lanka. The team is also shortlisted to join the Global Tech4Good Competition organized by Huawei that is scheduled to be held in January, 2022. Tech4Good project also enabled students formed into teams to create solutions that would leverage technologies to address a social or economic issues affecting the global and each group worked with mentors to provide guidance on their projects.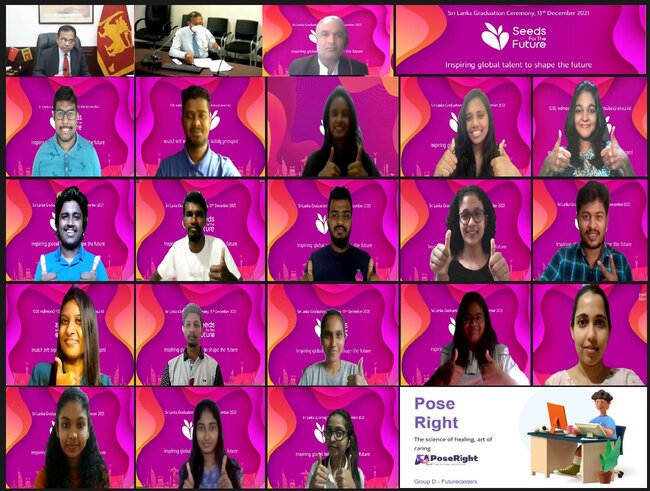 Team 'Futurecasters' that included 10 young talents from University of Sri Jayawardenepura, Sri Lanka Institute of Information Technology, National School of Business Management, Sri Lanka International Buddhist Campus and Horizon College of Business and Technology became the winners and the other team of 8 young talents from Sri Lanka Team UOC were from University of Colombo. A total of 18 young Sri Lankan university students from 6 different universities pursuing careers in fields of Information Communication Technology (ICT), computer science, software engineering and networking successfully completed and graduated from Huawei Seeds for the Future 2021 ICT programme.
Newly launched, Tech4Good Group Project is a part of Huawei's global CSR programme – Seeds for the Future and gives the challenge to student participants to examine how to use technology to address the World's or their society's most pressing social, health and environmental issues, while encouraging university students to increase their social entrepreneurship ability, problem-solving capabilities, and leadership skills through team work with participants from many different countries across the world.
The winning team of students from Sri Lanka – 'Futurecasters' presented a technological solution in terms of an application to one of the key health issues that today's modern ICT employees and workforce face globally – to address the challenge of maintaining people to keep the appropriate sitting posture while sitting for a long time in front of computers.
The 2021 Huawei Seeds for the Future program consisted of training via live-streamed sessions as well as pre-recorded courses accessible on Huawei's online platform. In addition to the sessions, students had the opportunity to take a virtual tour of Huawei's state-of-the-art Exhibition Halls and engaged in hands-on, practical exercises with ICT training in latest technologies. Further students were also able to interact with and learn from top industry experts on a wide range of topics, from ICT Advanced Cloud Computing, 5G, IOT Technologies, Smart Homes, Smart Cities and to the Evolving Role of ICT in the Economy, Digital Transformation, Strategic Leadership, Personal Effectiveness and Cultural Awareness.
The graduation ceremony of Huawei Seeds for the Future took place on Monday, 13th December 2021 and was held online with the representation of Ambassador of Sri Lanka to the People's Republic of China Dr. Palitha Kohonna, Secretary to the Ministry of Education Prof. Kapila Perera Secretary Minister of Education and Huawei officials. The Graduation ceremony also showcased students' talents including a performance of a Cultural Song.
Speaking at the Graduation Ceremony Ambassador of Sri Lanka to the People's Republic of China, Dr. Palitha Kohonna said that "With Sri Lanka embracing digitalization to rapidly progress in its' economy, the contribution made by Huawei is invaluable and that it will be consistent with the values and policies of the government of Sri Lanka to digitalize the economy".
"I would like to congratulate the students as they embark on their exciting ICT careers in future and would like to thank Huawei for the magnanimous gesture for making this opportunity available to our youngsters in Sri Lanka" Ambassador added.
Meanwhile addressing the Huawei Seeds for the Future graduates, Secretary to the Ministry of Education Prof. Kapila Perera also congratulated students wishing a happy and a safe journey in their future careers adding that "I hope that you all will be greater assets to our economy and give back what you learn with best abilities to build our nation. Education is the most shinning jewellery that will make you excel with the power tool of Knowledge to secure your future in times of challenge, and in times of needs. For you all the youngsters, it will be the key to the door to a better life".
"I also look forward to more strategic collaborations with Huawei as a way to continue nurturing our young Sri Lanka and providing them with the necessary skills and knowledge for them to compete in the digital world to be competitive" Secretary to the Ministry of Education Prof. Kapila Perera said adding that government is rapidly taking efforts to develop ICT infrastructure in education with the support of national telecom operator SLT and telecom regulator TRCSL through initiatives such as connecting over 10,000 schools with high speed connectivity to facilitate education in modern era for the benefit of future generations.
Speaking at the event via online Vice President of Huawei Enterprise Business Group Indika De Zoysa further explained that ICT Sector in Sri Lanka has been identified as a top export industry projected to earn over US $ 3 billion annually by 2024, currently Sri Lanka's Software and ICT exports earn nearly US $ 1.3 billion to US $ 1.5 billion annually and therefore there is ample opportunity for youth in Sri Lanka to join the ICT industry since the requirement is about 300,000 workforce.
"Therefore ICT companies like us at Huawei is committed to upskill the youth talent of Sri Lanka and during the recent two year period we have implemented several programmes with stakeholders such as Ministry of Education and State Ministry of Skills Development, Vocational Education, Research and Innovation to help the youth generation to acquire skills and necessary knowledge in the ICT sector so that they are competitive to meet the demand of the future job market" Vice President of Huawei Enterprise Business Group Indika De Zoysa added . He further thanked Ministry of Education for continuous support extended towards Huawei Seeds for the Future programme in Sri Lanka and congratulated the students.
To date with this year's 18 students, a total of 74 Sri Lanka university talents have participated in Seeds for the Future, and now in its 6th year in Sri Lanka, with 2021 the programme is now an annual symbolic project in Sri Lanka's ICT Sector and Education Sector, carried out under by Huawei in corporation with the Ministry of Education in Sri Lanka.