5G to accelerate the digital economy development in Sri Lanka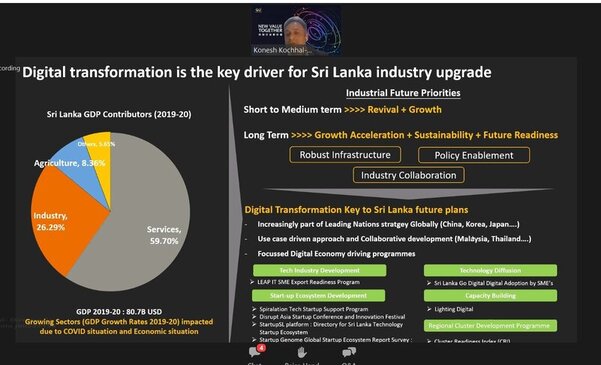 As Sri Lanka sets to include the spectrum for 5G in the upcoming frequency auction, the island will embrace 5G technology in the near future. Huawei advocates for accelerating 5G in line with Digital Economy development objectives during the First National Digital Consortia, organized by Information and Communication Technology Agency (ICTA). The week-long event aimed at building ties between multinational organizations, local businesses, local government, and encouraged the leading technology giants to be part of Sri Lanka's digital transformation.
"Digital transformation is the key driver for the Sri Lanka industrial growth and higher productivity," Huawei APAC Director of Industry Ecosystem Engagements, Konesh Kochhal highlighted that advancing Telecom and ICT technologies are key foundation enablers to achieve Digital Aspirations in Sri Lanka.
Whilst Sri Lanka has identified 'Building a Technology-based society' as a key national initiative in its National Policy Framework (NPF) named "Vistas of Prosperity and Splendour", there are wider opportunities and room available in Sri Lanka for improvements even in more digitally mature sectors for digital transformation. A country needs to decode its National Strengths, prioritize digital developments, embark on vertical Industry digitalization, and leverage best practices through measurements, transparency, and collaborations. Kochhal highlighted that focused digital economy driving programmes such as Tech Industry development, Startup Ecosystem Development, Technology Diffusion, Capacity Building, and Regional Cluster Development defined in the ICTA's Digital Economy Strategy are spot on and will be absolute essential for driving digital transformation of Sri Lanka.
Sri Lanka's government has pledged to meet the Sustainability Development Goals of the United Nations. A digital economy with efficient digital infrastructure and skilled workforce will attract more investment and broaden trade relationships. Explaining on early 5G experience in several countries and the success of the digital economy, there have been studies showing that a 20% increase in ICT investments will lead to a 1% increase in GDP growth. In terms of investment efficiency, the ROI of ICT investments is 6.7 times higher than that of non-ICT investments. In addition, the global digital economy is growing 2.5 times faster than the global GDP.
In the past 10 years, the proportion of the digital economy in the global GDP has increased from 11% to 15%, according to experts. In the next 10 years, the proportion is expected to reach 24.3%, equivalent to $23 trillion US dollars in value. Thus, ICT technology investment and digital transformation will affect the entire economic and industry aspects. Nowadays, industries are experiencing digital transformation. More than 75% of the top 500 enterprises will transform the traditional business model into ICT digital service provider. Leading enterprises of various industries are already using digital or cloud technology, to innovate business & operating models, improve efficiency and experience, and benefit from digital dividends.
"The digital economy is characterized by fast growth, active innovation, and a wide impact, and it is becoming a key aspect in developing a new structure and mechanism for economic development. Currently, more than 170 countries have digital strategies" he said adding that "5G is not just a faster Internet connection for your smartphone, but that It is the foundation of tomorrow's digital economy, powering everything from banks to hospitals to civil aviation and the management of cities. If 5G is going to support tomorrow's complex digital systems, those systems must be made secure".
Further elaborating on Sri Lanka's present digital economy strategy, Kochhal highlighted that whilst ICTA's Digital Economy Strategy includes utilizing existing programs and all relevant ecosystem partners to develop and implement an integrated Digital Economy transformation through higher operational efficiency, lower costs, and better services and outcomes for its citizens, there is still room for improvements even in more digitally mature sectors for digital transformation.
"Digitalization is fundamental to digital economy and it is important to develop infrastructure of telecommunications and ICT. Therefore encouraging the telecommunications and ICT sector development to expand along with inclusive growth will make Sri Lanka Digital. Technology investments could be adapted to address issues of national as well as regional importance and will also help Sri Lanka move up the technological ladder. Given current 4G penetration and experience in Sri Lanka, the immediate priority is to accelerate strengthening of the 4G layer both in terms of adoption, improved experience and ensure a robust foundation. As the local ecosystem gears up to accelerate all industry digitalization, people, industrial and enterprise digital demands will rise multi-fold in no time, we believe in order to address this 5G technology is essential to Sri Lanka" he said.
Sri Lanka has already emerged as the first South Asian nation to demonstrate a 5th generation mobile telephony in recent years. Earlier, Sri Lanka has been successful to become the country with the first operator in South Asia to start commercial operations of 4G-LTE services, after introducing 3G in 2006. Switching to 5G technology will encourage Sri Lankans to collaborate and create next-generation IoT and ICT innovations and serve the country's digital footprint.