Popular realme Number Series smartphones surpass 40M handset sale volume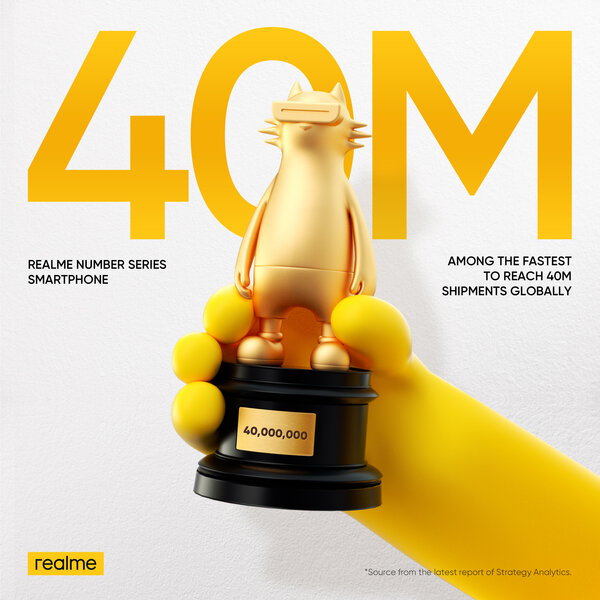 realme, the fastest-growing smartphone brand in the world which also recently celebrated its maiden year of operations in Sri Lanka, reports the 40 million sales volume milestone on its popular realme "Number smartphone" handset line globally.
The popular realme Number Smartphone series commenced in May 2018 with the launch of 'realme 1' which packed a six inch display and ran on Android 8.1. The Number series continued thereafter with 'realme 2' (launched September 2018), 'realme 3' (March 2019), 'realme 4' (May 2019), 'realme 5' (August 2019), 'realme 6' (March 2020), 'realme 7' (October 2020), and the latest in the series 'realme 8' running on Android 11, unveiled in March 2021.
The realme Number series' cumulative global sales (from realme 1 to realme 8) crossed the 40 Million handsets mark in mid-January (2022).
Shawn Yan, Head of Marketing – realme Sri Lanka said: "This is a global milestone in realme's journey of "Dare to Leap" spirit. An important consequence of the Number series is that this realme phone came in the same year that realme entered the industry-2018. Globally the 'New Age Smartphone Families' era also began in 2018. It was this Number series that turned the page for realme in the New Age. Smartphone models rolled out after 2018 belong to 'New Age Smartphone Families' and many other brands too launched New Age models in parallel to realm. The Number series was ranked No.4 as of 2021 – third quarter as per consolidated shipments among the 'New Age Smartphone Families.' Another important effect for realme on the New Age Number series is this series' role in realme's global record of becoming the fastest brand ever to ship 100 million units in the entire smartphone history."
About realme:
realme is a global emerging consumer technology company disrupting the smartphone and AIoT market by making cutting-edge technologies more accessible. It provides a range of smartphones and lifestyle technology devices with premium specs, quality, and trend-setting designs to young consumers at affordable prices. Established by Sky Li in 2018 and driven by its "Dare to Leap" spirit, realme is the world's 7th largest smartphone company. As of Q2 2021, realme has entered 61 markets worldwide, including China, Southeast Asia, South Asia, Europe, Russia, Australia, the Middle East, Africa and Latin America, with a global user base of over 100 million. For 2021 second quarter realme has been placed among Top 6 in smartphone rankings by Counterpoint.
#ENDS#