Swadeshi Khomba sponsors Manikkawatte teledrama which celebrates Sri Lanka's colorful lifestyle of yore
Swadeshi Khomba is proud to be the main sponsor of the highly realistic television drama series developed based on the famed Sinhala literary work "Manikkawatte" whose plot spans the 1880-1980 century of Sri Lanka.
"Manikkawatte"'s plot is spun around pivotal themes of the value of the country's natural resources, relevance of nature, negative consequences of environmental damage, colonialism and its impacts, historic and ancient heritages, and the Sri Lankan social fabric centered on the nuclear family unit. The tele drama series' portrayal of the lifestyle, culture and language usages inherent to the Sabaragamuwa Province shall support in creating awareness (on them) for future generations.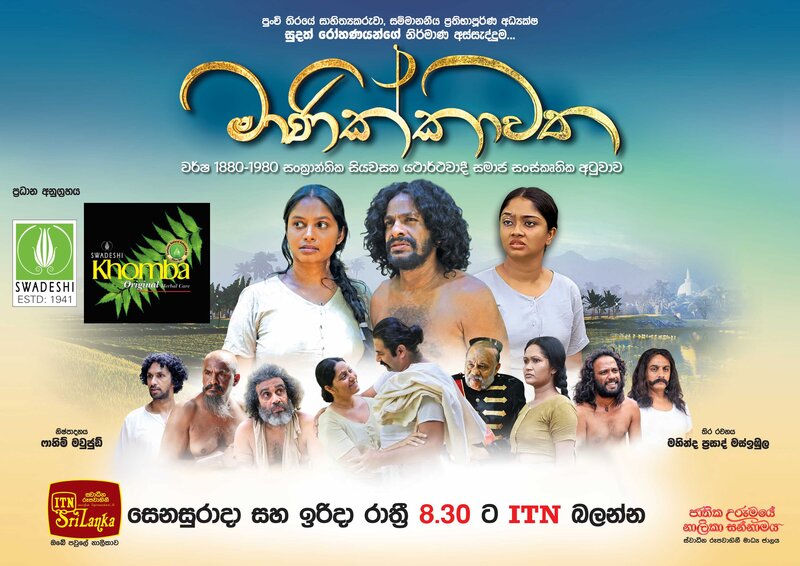 The series, which brings a new TV viewing experience, is created by Director Sudath Rohana. It is being telecast on ITN every weekend at 8.30 pm.
Director Sudath Rohana elaborates: "For me, it brings great pleasure to contribute to the society with a significant, meaningful and quality creation such as Manikkawatte which reaffirms our educational, cultural, political and social values especially at a time when most tele dramas are being widely produced for commercial purposes.
Chairperson of Swadeshi Industries Ms. Amari Wijewardene says: "Manikkawatte" is a valuable opportunity to showcase the value of lifestyle and heritage of Sri Lankans of yore. This drama series will help our children to learn about our rural heritage and history. Swadeshi Industries look forward to see positive attitudinal change towards Sri Lankan culture and values among the viewing public, from this series. Today sponsorship for dramas that portray such traditional values is very seldom. We at Swadeshi Industries, as a Sri Lankan company that values our heritage, feel a great sense of pride in contributing to an effort of this nature." Swadeshi Industries previously also sponsored several tele dramas directed by Sudath Rohana including Ambudaruwo, Uthuwankande Saradiel, Karuwala Gedara, and Kinduru Kumaraya.
The main sponsor of the drama, Swadeshi Khomba has been a trusted brand for generations. Swadeshi Khomba has natural Kohomba oil, which has been used for generations as a natural herbal therapy for protection against germs. Swadeshi Khomba cleanses the skin while also nourishing and safeguarding it.
Manikkawatta is a fictional chronicle set in the interior jungles and the labor of life revolving around it. In 1880, Maduvanwela Disave, a high ranking officer of the King, exiled a young couple Keti Haami and Pichchi to the interior of a deep jungle terrain in the Atakalan region. Their first born child turns blind in their earliest days. The paddy field harvested from the ground up by the couple with greatest drudgery was also subsequently taken from them and distributed to the general public on official orders. Manikkawatta, the fictional work by the award winning writer Mahinda Prasad Masimbulage, stories how the once exiled couple courageously built up their family amid such struggles while also trading punches with continuously shifting socio-political and economic landscape of that time. The characters in the fictional work are brought to life in the tele drama by Jagath Chamila, Uma Aseni, Volga Kalpani, Mayura Perera, Sarath Kothalawala, Niroshan Wijesinghe, Udayanthi Kulathunge, W. Jayasiri, Priyankara Ratnayake, and Palitha Silva.
As a 100% local company Swadeshi continues its nation building and community CSR projects for our Sri Lankan communities. The Swadeshi Khomba brand is dedicated to carrying out sustainability projects which focus on caring for Mother Nature and enhancing cultural values. Company's many community outreach initiatives include, Island wide annual lighting ceremony of temples "Swadeshi Khomba Aloka Puja Sathkaraya", Hand washing sinks for temples and railway stations, Education on hand washing steps through a video targeting children during Covid 19 pandemic situation, "Swadeshi Khomba Mihithala Sathkaraya" Kohomba tree planting campaigns, Donation of water tanks for the communities and schools in dry zone of Sri Lanka and Khomba Baby care gifts to pregnant mothers.
The pioneer and market leader in the herbal personal care category in Sri Lanka, The Swadeshi Industrial Works PLC, was incorporated in 1941. Among the pioneer brands of Swadeshi are Rani Sandalwood, Swadeshi Khomba, Swadeshi Khomba Baby, Perlwite, Lak Bar, Safeplus, Black Eagle Perfume, Khomba Hand Wash, Khomba Body Wash and Rani Shower Cream range.
"As the country's leading herbal personal care products company, we would like consumers to learn more about the functional benefits of the herbal ingredients used by Swadeshi in all its products, we use only the best of Sri Lankan herbs, and all ingredients are extensively researched, and the products fully tested to ensure quality and all our products are 100% Vegetarian, Not tested on animals and Cruelty free. Swadeshi products including Swadeshi Khomba, Rani Sandalwood, Swadeshi Khomba Baby, are accredited by the Vegetarian Society, UK." This stands testament to the company's forward-thinking practices, as well as our desire to help consumers make ethical and eco-friendly choices. The company has always considered the health and environmental impact of its products, and continues to prioritize it. Swadeshi, a truly Sri Lankan company has claimed many industry firsts to its name including the most recent Covid-19 safety management certification.