Swisstek Aluminium Ltd certified as a 'Great Place to Work' in Sri Lanka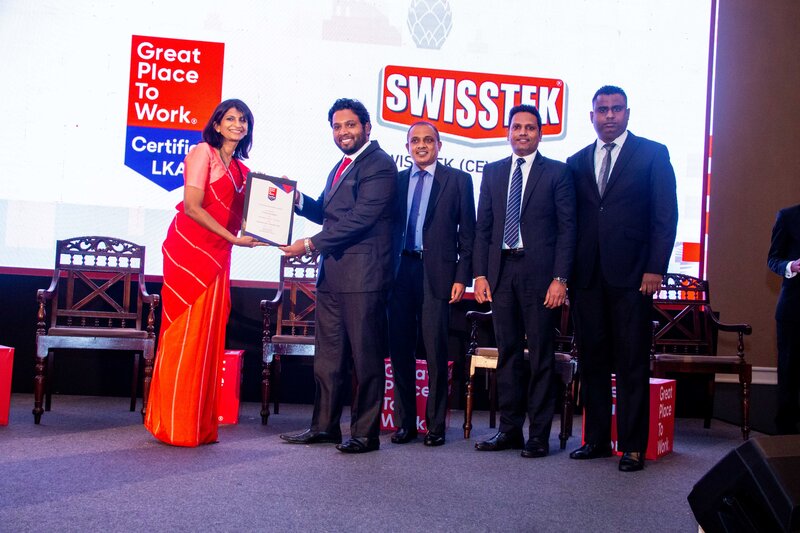 Swisstek Aluminium Ltd was certified as a "Great Place to Work" by the independent analysts at Great Place to Work in Sri Lanka. Swisstek Aluminium Ltd earned this credential based on the extensive ratings provided by its employees in anonymous surveys conducted by Great Place to Work Sri Lanka. A great workplace is one in which employees, no matter who they are and what they do for the organization, have a consistently positive experience of trusting their leaders, enjoying the people they work with, and having pride in what they do. Driven by its values, Swisstek Aluminium Ltd is known by its employees as an organization that fosters respect, trust, and fairness.
Mr. Mahendra Jayasekera, Managing Director of Lanka Wall Tiles group stated with regard to this recent recognition- "Swisstek Aluminium has been consistently serving the public for over the 12 years with products of unmatched quality and consistency. The long-standing success of the company is entirely attributed to our work force and our vision for the way we treat our employees and the way we work as a company."
The journey evolves within and around our 360 degree philosophy "Ceaseless Creation of Seamlessness Ecosystems", there we respect the insatiable hunger motivated by equal opportunity and equal right of every stakeholder to create and live a great life. Within this context, we are truly humble to be recognized as a great place to work since it further reinforces our empathic efforts on every single member to offer a conducive culture at the work place which could ultimately create a great society. "Great People Make Great Places" Mr. Tharindu Atapattu Chief Executive Officer of Swisstek Aluminium Ltd.
Group Human Resource Manager, Mr. Athula Hewapathirana said, "To win the marketplace first we must win the workplace'. Our passion is to take care of our employees who in turn will take good care of our customers. The concept of 'People First' enriches our organizational culture, and it's our privilege to be recognized as a 'Great Place to Work' since great people create a great place to work."
Swisstek Aluminium Ltd, established in 2009, is the first company to claim the Qualicoat sea side certificate and, along with other awards, received the most recent achievement, the best display on aluminium products by the National Construction Association of Sri Lanka. They have been seamlessly moving forward in par and, at the same pace of cutting-edge technological development. Their primary objective is the extrusion of aluminium, focusing on high-demand products and ingenious system applications. Swisstek Aluminium Ltd proudly claims the mastery of offering tailored products and services to its customers, their energetic team with a futuristic vision ensures the highest level of quality products and services through continuous research and development. They are at the forefront of the ethical industrial practice movement and dedicated to environmental conservation, and the plant boasts the latest technology with a constantly updated approach and is situated in Dompe, Sri Lanka. Innovative thinking, dynamic leadership, and dedicated workmanship are the cornerstones of their success. Swisstek Aluminium Ltd dominates the market as a part of the group with Lanka Walltiles PLC and Vallibel One PLC.
Great Place to Work, headquartered in the USA, is the global authority on high-trust, high-performance workplace cultures. Through proprietary assessment tools, advisory services, and certification programs, including Best Workplaces lists and workplace reviews, Great Place to Work provides the benchmarks, framework, and expertise required to create, sustain, and recognize outstanding workplace cultures. They offer executive advisory and culture consulting services to businesses, non-profits, and government agencies in over 60 countries across five continents, including Sri Lanka. Follow Great Place to Work online at www.greatplacetoworksl.lk
The 'Great Place to Work® Certified TM' program is designed to help organizations assess the employee experience based on five principles (credibility, respect, fairness, pride, and camaraderie) through the Trust Index Survey and existing people practices through the Culture Audit Management Questionnaire. As the global authority on workplace culture, Great Place to Work uses the employee feedback collected through the assessment process to discover, recognize and share insights into the world's most desirable workplaces and businesses.
Photo Caption
From Left to right Kshanika Ratnayaka, Chief Executive Officer, Great Place to Work® Institute ,Sri Lanka, Iran Udayanga, Head of Manufacturing, Athula Hewapathirana, Group Human Resource Manager, Gihan De Silva, Manager Market Development, Nalin Priyantha, Assistant Manager, Human Resource.