Inivos and UK's Muzulu's milestone partnership provides end-to-end ERP solutions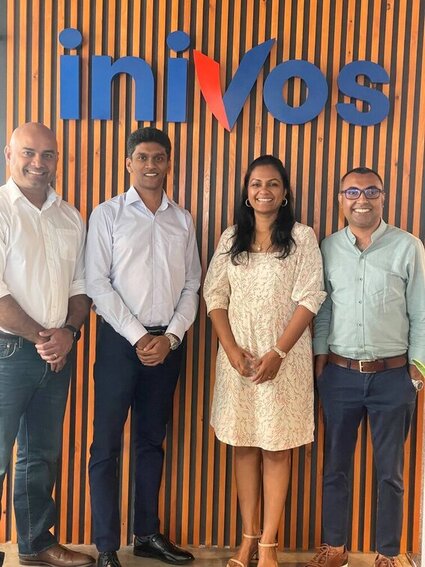 Inivos the fully-fledged Sri Lankan Business Consultancy and Technology solutions provider continues and expands its partnership with Muzulu, the UK-based provider of industry-leading ERP business solutions. Established in 2019 with enduring values of integrity, innovation, and agility, Inivos is a growing end-to-end corporate business solutions service provider.
This partnership is aims to continue supporting a wide base of customers globally, with the initial focus being on Sri Lanka and Europe. The partnership between Inivos and Muzulu goes as M. I. Consultancy, and both Inivos and Muzulu share similar business philosophies when it comes to the provision and extension of ERP services to a gamut of industries such as engineering, construction, infrastructure, manufacturing, energy, and utilities. In addition to IFS services, both companies specialize in providing end-to-end solutions in Customer Relationship Management (CRM), Enterprise Asset Management (EAM), Enterprise Resource Planning Management (ERP), and Supply Chain Management (SCM).
Commenting on the progress and future plans for this partnership, Partner/CTO of Muzulu Ravi Edirisinghe said, "With my recent visit to Sri Lanka to lay the plan for 2022, I found that our partnership with Inivos had received positive feedback from customers, as they understood the difference between our services and the rest. Our future plan and vision is to make Sri Lanka a one-stop-shop for staff augmentation, expand 24/7 operations to support our customers globally, and provide end-to-end solutions of ERP. Our implementation teams have an enviable track record delivering successful global ERP projects. By working with Inivos, we saw a huge opportunity to use our successful, solution-focused approach to deliver even greater success for both Muzulu's and Inivos's current and future customers."
The Sri Lankan workforce is highly skilled in software development, UI/UX, quality assurance, and project management. And the overall ICT industry of Sri Lanka with its sub-sectors, which include IT/ITeS and telecommunications, is projected to generate USD 1.8 billion revenue by 2022. Furthermore, it is to become a USD 3 billion industry by 2024, through export revenue, entrepreneurship, innovation, and digital adoption, creating around 300,000 direct jobs and enabling 1,000 startups in the country. And currently, Sri Lankans are working on global IT projects to increase the revenue by this year.
The digital transformation post-COVID-19 makes sure that more business, agriculture, health, and education services are provided without leaving anyone behind, which in turn will have a far better outcome on equity and social justice objectives. All of these efforts need resources if it's human capital, funding, or technical know-how, which is why there is a wealth of experience that is brought by the IT industry to the table fueling the strategy in creating user-friendly and compellingly easy to access business solutions.
Inivos is able to supply the best in quality employees by positioning them at the edge of expertise, providing real-time access to valuable business data and market insights that in turn result in flexible, customer-friendly solutions for any business. They also operate as one united strong team governed by a deep commitment to their corporate values; the enduring integrity to deliver on their promise, the headstrong collaboration through which they build on innovation, and their agility in adapting themselves to a wide range of business systems, solutions and client expectations.
Based in Colombo, Sri Lanka, Inivos (www.inivossl.com) has emerged as a key player in the ERP segment under the consultancy arm. Inivos has been able to build a strong client base in Sri Lanka, The Middle East, South Africa, Scandinavia, North America, Australia and Europe within a short time span. Apart from being a business consultancy, Inivos also carries out software development, managed services and quality assurance. All of the aforementioned services are offered through Inivos' Technology arm.
Muzulu, headquartered in Oxford in the United Kingdom, delivers industry leading ERP consultancy interwoven with high quality supporting products and solutions, consistently delivering high satisfaction and return-on-investment for our clients. Our expert team of functional and technical implementation consultants average more than a decade of experience implementing ERP solutions across a diverse range of industries. We have direct experience implementing ERP solutions for every region of the globe. To further this approach, we have partnered with key software organizations to support improving our client's businesses, including IFS, Dell Boomi and Pagero.
Photo Caption
From left:Ravi Edirisinghe, Partner/CTO of Muzulu, Asanga Marasinghe, Managing Director of Inivos, Ayomi Gunawardena, Director Consulting and Support Services of Inivos, Subashana Suwandarathna, Director Business Development and Technology of Inivos