The World Innovation Congress awarded SLT-MOBITEL the prestigious Best Innovation in Telecommunication award 
Reasserting its leadership in Telecommunication and Technology, SLT-MOBITEL mobile was awarded the distinguished global award for the 'Best Innovation in Telecommunication', at the World Innovation Congress hosted in Mumbai, India on the 24th of March 2022.
The award is a testament to SLT-MOBITEL's distribution of the advanced Sub-1GHz band LTE network solution, created to further increase rural broadband infiltration in Sri Lanka. The Sub-1GHz band LTE technology also focused on enhancing telecommunication infrastructure and support services particularly to help customers in rural districts during the Covid-19 lockdown periods.
Lalith Seneviratne, Group Chief Executive Officer, SLT-MOBITEL commenting on the recognition said, "It gives us great pride and joy to see our innovative work being acknowledged on a global scale. World Innovation Congress is a reputable body for recognizing innovative businesses around the world, and we are delighted to acquire this distinguished award. Whilst the acknowledgment has brought honor to Sri Lanka, it has also allowed us to save Forex outflows and recover the national spectrum resources in the 900 band: otherwise squandered because of cross-border interference. This innovative solution could only be obtained because of the backing given by the Telecommunications Regulatory Commission of Sri Lanka (TRCSL), in empowering Sri Lanka with 4G LTE connectivity island-wide. On behalf of SLT-MOBITEL, we are grateful to TRCSL for the constant support given right throughout in making Sri Lanka a technologically progressive nation."
SLT-MOBITEL Mobile's innovative Sub-1GHz 850MHz LTE network also offered extraordinary support during Covid-19 travel limitations when broadband had become essential for everyone. Because of the well-timed distribution of the LTE network, the public was able to work from home, administer online education, participate in telemedicine, and continue business and transactions.
Chandika Vitharena, CEO of Mobitel (Pvt) Ltd also commented on the achievement and said, "Winning the Best Innovation in Telecommunication at the World Innovation Congress reasserts the company's continuous innovation drive and technology leadership in the fiercely competitive market of Sri Lanka. The award mirrors our teams' hard work and untiring commitment for innovative connectivity solutions. As the only local mobile service provider, we ar epleased to see that our initiatives are helping the country to move ahead in the technology space and are being acknowledged both globally and locally.
During this difficult time, with the innovative distribution of broader broadband coverage LTE network, SLT-MOBITEL Mobile offered complementary access for online education platforms and National University based zoom platforms, providing cheap additional GB volume packages to help uninterrupted education during this period.
Additionally, via eChannelling, a subsidiary company, SLT-MOBITEL Mobile provided remote doctor consultations (telemedicine services), medical and vaccination appointments, ensured online medicine deliveries to assisit health services.
SLT-MOBITEL Mobile also offered high-priority services to Work-From-Home applications like Zoom, MS Teams, and Google Meet to provide customers the best broadband experience. SLT-MOBITEL Mobile was also recognized by Ookla®, the worldwide leader in fixed and mobile broadband network testing applications, data, and analysis as the 'Fastest Mobile Network in Sri Lanka' back-to-back in 2019, 2020, and 2021.
Furthermore, pushing digital inclusivity and enhancing rural connectivity, SLT-MOBITEL continues to assist national level initiatives like the 'Gamata Sanniwedanaya' program together with the TRCSL who's goal is to offer 100% 4G LTE connectivity to the country. With 5G distribution plans happening, SLT-MOBITEL continues to invest in boosting its 5G ready network infrastructure and has put in around USD 800Mn to strengthen broadband services in the nation.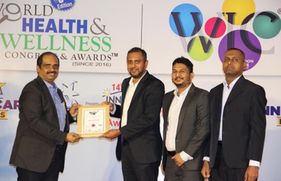 Image Caption – Indika Asurappulige, General Manager, Network Planning at Mobitel (PVT) Ltd. receiving the 'Best Innovation in Telecommunication Award' from Vasanth Jeyapaul, Chief Executive Officer, CAMSPay, together with Buddhika Maldeniya, Manager, Network Strategy, Mobitel (Pvt) Ltd. and Lasitha Rideewita, Senior Manager, Radio Network Planning, Mobitel (Pvt) Ltd.