A New Codeshare Partnership Launches between Sri Lankan Airlines and Kuwait Airways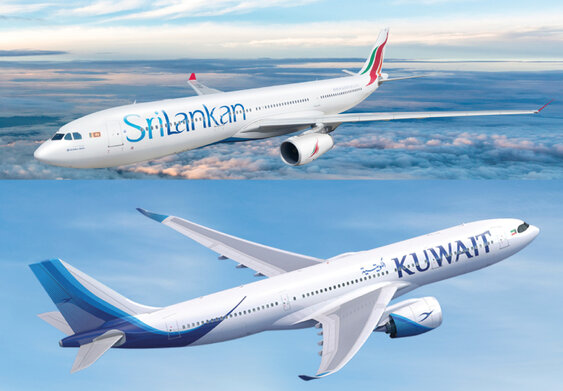 Sri Lankan Airlines and Kuwait Airways are happy to announce the launch of a new codeshare partnership which came into effect on 20th June 2022 and offers increased connections and ease to customers of both airlines. Each airline will put the other airline's marketing code on its flights working between Colombo and Kuwait with the alliance coming into effect.
The new codeshare partnership will reinforce and take to new heights the cordial commercial relationship that has existed between Sri Lankan Airlines and Kuwait Airways since 1999. Sri Lankan Airlines has taken passengers between Colombo and Kuwait for around four decades and presently works a daily flight to Kuwait. Additionally, Kuwait Airways has been carrying passengers on this route since 1978 and plans to work three weekly flights to Colombo beginning from October 2022.
Passengers might essentially expect to receive all the benefits of codeshare flights which include limitless connectivity and the benefit of having their whole trip handled by one airline from the point of buying tickets until they arrive at their last destination with the launch of this partnership. Additionally, passengers of both airlines will enjoy more alternative flight choices, particularly to the Middle East and Europe via Kuwait and to the Indian Subcontinent and the Far East via Colombo.
Chief Executive Officer of Sri Lankan Airlines, Richard Nuttall stated, "We are excited to enter a new chapter in the long-established relationship between Kuwait Airways and Sri Lankan Airlines that is expected to create worth for our customers in many ways. The Middle Eastern market has always been essential to Sri Lankan Airlines, and we continually try to grow our network and product portfolio to serve this part better. We look ahead to working with Kuwait Airways and generating significant synergy between our merged networks for the benefit of our passengers."
Chief Executive Officer of Kuwait Airways, Maen Razouqi stated, "We welcome Sri Lankan Airline as our codeshare partner. The new beginning of this partnership will help Kuwait Airways and Sri Lankan Airlines operations between the two cities and permit more travel choices, and facilities for the public. Passengers and travel agents will be able to reserve directly on these flights through our offices/website/APP and agents' reservation system. Additionally, this Codeshare Partnership will not only grow the relationship between the two airlines but also the strong relationship between the two affectionate states, Kuwait and Sri Lanka. At this time, I would love to thank Mr. Richard Nuttall and both the teams for their attempts in making this Codeshare Agreement successful.
Both Sri Lankan Airlines and Kuwait Airways are also working on including the Frequent Flyer Program for codeshare flights so that passengers can be awarded the benefits of such programs. Moreover, both airlines look forward to surveying other paths for future mutual cooperation and growth of their partnership."