Sri Lanka's leading cement manufacturer and supplier, INSEE Cement contributes to the National Hospital of Sri Lanka
Sri Lanka's leading cement manufacturer and supplier, INSEE Cement, has responded to a humanitarian aid request made by the National Hospital of Sri Lanka's (NHSL), Medical Intensive Care Unit (MICU). As an outcome, INSEE Cement was able to offer the full list of urgently required necessary medicines and equipment, which include noradrenaline vials, CRRT kits, blood gas cartridges, sensor cards, nasogastric tubes, urinary catheters, 10ml syringes, sterile surgical gloves, examination gloves, and suction jars. The medical supplies offered by INSEE Cement to the MICU at the NHSL will help the facility continue operations as soon as possible.
The medical supplies were officially entrusted to the NHSL by Nandana Ekenayake, Chairman/Chief Executive Officer of INSEE Cement along with Chandana Nanayakkara Head of External Affairs of INSEE Cement at a small, informal ceremony to celebrate the event, together with Dr. Dilshan Priyankara, Dr. Sajeewaka, and Mrs. Shiromi-Nurse-in-charge from the NHSL.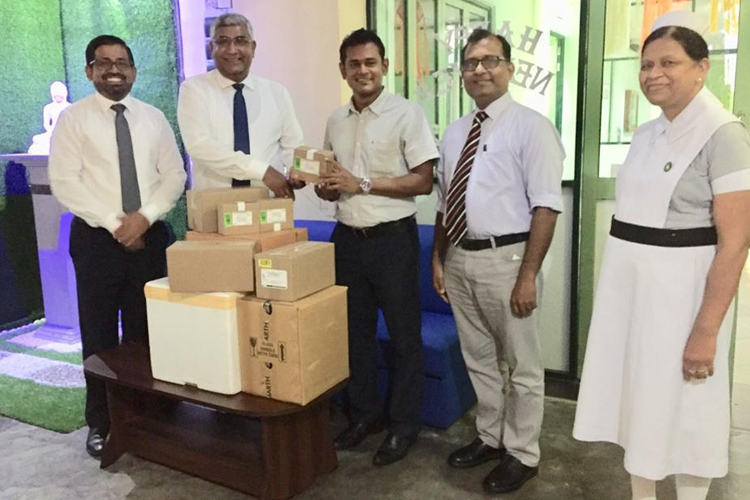 Nandana Eenayake, Chairman/Chief Executive Officer of INSEE Cement said, "We're honored to know that the NHSL has faith in us to request our help in this instance. We quickly went to work obtaining the required materials after learning of the facility's difficulties, which was no easy effort in the present environment. We are appreciative, however, that we were able to get sufficient supplies, which have now been handed over to the hospital. We are happy to have been able to contribute to the support of saving lives and making sure that patients in dire conditions have enough access to lifesaving equipment and facilities as a company that aims to 'Build for life'. We look ahead to doing our best wherever possible too, to make sure that Sri Lanka comes out stronger from the current crisis."
INSEE Cement is dedicated to the prosperity of communities and the present situation in the country and has commenced a number of social and environmental sustainability programs. During the peak of the global pandemic, the Company offered ample patient beds while also initiating an all-inclusive program to donate necessary supplies to hospitals and frontline workers. Additionally, INSEE Cement helped build a 150-bed hospital unit together with the National Hospital of Kandy by donating cement and offering the required technical help for the construction and completion of the project. More Cement donations and help were also provided to other hospitals, which included the National Hospital for Respiratory Diseases in Welisara, Ragama, the Colombo South Teaching Hospital, and the Divulapitiya Base Hospital, in order to help them grow to hold the growing patient load.