Hemas Consumer Brands and Cleantech partner in plastic collection & recycling project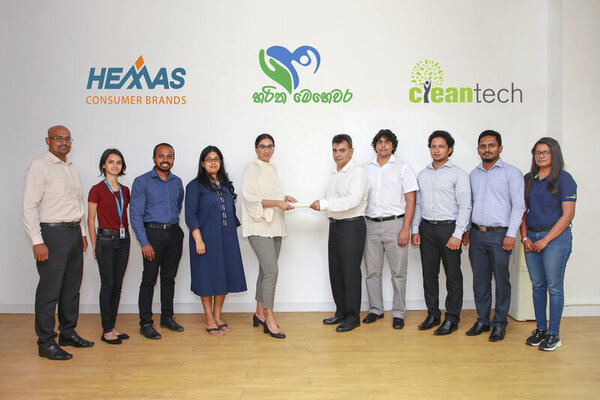 In its commitment to ensure the responsible disposal of plastic waste, Hemas Consumer Brands, a leader in Sri Lanka's FMCG sector, signed a Memorandum of Understanding (MoU) with Cleantech Pvt. Ltd., on 18th July 2022. As part of the project, plastic litter left behind at public events and public spaces will be collected and recycled as the partners work together to conserve the environment.
The Hemas Group has pledged to raise awareness, champion advocacy through partnerships and rally people into action to safeguard the environment and protect our natural resources under its overarching Haritha Mehewara environmental pledge.
Sabrina Esufally, Acting Managing Director of Hemas Consumer Brands said, "Our main objective is to recognize and work towards minimizing our environmental footprint through sustainable and responsible operations in Sri Lanka. Our partnership with Cleantech is one of several large scale environmental projects planned by the Group to ensure the responsible disposal of plastic waste. . In parallel, we are also looking inwards at our manufacturing processes to minimize the use of plastic in our products, which is taking the Group closer to achieving its commitment to reduce plastic used in packaging by 2030.
Commenting further, Phiroze Pestonjee, Managing Director of Cleantech Pvt. Ltd., added, "We are pleased to join hands with Hemas Consumer Brands to find innovative solutions to reducing plastic pollution in the environment. Sri Lanka's biodiversity is being threatened by irresponsible disposal of plastic on land and sea. This is a timely initiative that places a spotlight once again on the need to urgently recycle plastic waste and restore our environment to its pristine glory."
About Hemas Consumer Brands
Hemas Consumer Brands, the leading Sri Lankan manufacturer of Home and Personal Care products, has won consumer hearts over the years through strong purpose-led brands and progressive sustainability practices. Hemas Consumer Brands strive to bring healthful living and personal care solutions to life through its portfolio of world-class products. They have garnered acclaim for creating superior Market-leading and Award-winning products by uncovering local insights which are nourished by growth-inspired innovative teams. They touch the lives of the communities around the island by creating meaningful offerings, cultivating trusted partnerships, and championing a more environmentally friendly inclusive world.
About Cleantech Pvt. Ltd.
Cleantech is a fully-fledged entity providing turnkey end-to-end waste and environmental management solutions along with related advisory services with over 20 years of experience. Within a short period of time, it has become the market leader in waste management with over 1800 workers including environmental specialists, engineers, task-specialized staff as well as a skilled labor force, and a fleet consisting of about 150 vehicles. Cleantech has been afforded the privilege of collaborating with central government entities, municipal councils, commercial enterprises, NGOs and private entities, providing waste management solutions. Over the years, Cleantech diversified and initiated all forms of recycling including plastic & electronic waste management, sanitation services, hygiene management, and built environment maintenance.
Photo caption
Attending the MoU signing (from left): From Hemas – Keith Dabare, Brand and Purpose Architect, Sonali Nizam, Executive Corporate Affairs, Mindika Thilakarathna, Manager Group Sustainability and Special Projects, Janakie Karunaratne, Lead Corporate Affairs, Sabrina Esufally, Acting Managing Director, Hemas Consumer Brands, From Cleantech – Phiroze Pestonjee, Managing Director, Cleantech, Zev Pestonjee, Management Trainee, Kasun Karunanayaka, Head of Circular Economy Services, Kasun Thennakoon, Manager, Circular Economy Services, Sachini Prabha, Assistant Manager, Circular Economy Services.