Deepak Senthil succeeds outgoing Managing Director of CCBSL, Mayank Arora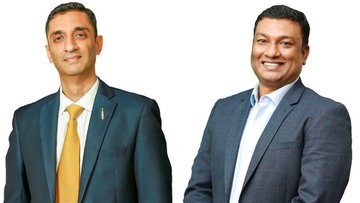 Coca-Cola Beverages Sri Lanka (CCBSL) recently bade farewell to outgoing Managing Director Mayank Arora, who will be proceeding as General Manager to Coca-Cola's Bangladesh office with effect from 1st July 2022. During his successful stint in Sri Lanka for the past five-and-a-half years, Mayank was able to establish and strengthen partnerships effectively and efficiently navigating through the highly complex landscape in the region. Under Mayank's leadership, CCBSL received various accolades and recognitions within and beyond the system, including 'Coca-Cola South West Asia (SWA) Bottler of the Year 2020'.
One of Mayank's key challenges during his tenure here was managing the impact of the pandemic on the company whilst reaching out to help local communities in need. As Sri Lanka grappled with COVID-19, CCBSL swiftly adapted to the changing situation, prioritizing the health, safety and job security of its employees and partners, whilst complying with all national health and safety guidelines with zero job losses and no reduction in salaries, while extending annual increments and incentives. Disinfection programmes and distribution of essential packs were conducted in the local community by the company to limit the spread of the pandemic.
Coca-Cola's Sri Lanka operation has consistently gained value market share each year for the past five years under his leadership, underscored by a strong culture of continuous improvement in efficiency and productivity, successfully positioning Sri Lanka as one of the best performing markets in the Coca-Cola Bottling Investments Group (BIG).
Notwithstanding the operating challenges faced over the last three years, from the Easter Sunday attacks, the COVID-19 pandemic and the more recent economic crisis, Mayank resolutely advanced the company's sustainability vision. The 'Give Back Life' PET plastic collection and recycling programme in line with the global 'World Without Waste' initiative continued in Sri Lanka, as did water use efficiency initiatives within the CCBSL plant, along with Women Empowerment and Climate Action initiatives. CCBSL won the 'Iconic Rooftop Solar Project of the Year' at the Annual Solar Awards 2021 in recognition of the company installing one of the largest single location rooftop solar projects in the country at its facility in Biyagama. The company also exceeded its global Water Replenishment goal in 2020, where it now gives back twice the amount of water it uses for the production of its beverages to communities and nature through its local water initiatives – the first Coca-Cola operation to do so in South-West Asia. CCBSL was also awarded a Best Sustainability Project Award at The Best Corporate Citizen Sustainability Awards 2020, by the Ceylon Chamber of Commerce for its project 'Water for Life' which rehabilitated two ancient water reservoirs in a village in Anuradhapura.
Consolidating the success achieved by the company thus far, Deepak Senthil will take CCBSL through to its next phase of operational growth and sustainability milestones. He counts a 20-year career at Hindustan Coca-Cola Beverages (HCCB) across Sales, RGM, Trade Marketing, Category Management and Zonal leadership. Prior to this, he was Vice President for Winning at Point of Sale (W@POS) at HCCB and a key leader in driving business turnaround strategies and projects. He has also helped to design commercial strategies, including the redesign and rollout of commercial execution based on new ways of working across the network. His sound professional experience will have a positive impact on the company's progress going forward.
CCBSL wishes Mayank the very best in his future endeavours while looking forward to a new and exciting chapter under Deepak's leadership.
Photo Caption
Mayank Arora, outgoing Managing Director and Deepak Senthil, newly appointed Managing Director for Coca-Cola Beverages Sri Lanka