DIMO in partnership with University of Ruhuna develops Agricultural Machinery Training and Research Hub
DIMO, a leading diversified conglomerate in Sri Lanka, entered into a partnership with the Faculty of Agriculture at the University of Ruhuna (FAUR) through its agriculture arm DIMO Agribusinesses, to develop an agricultural machinery training and a research hub in Sri Lanka.
DIMO spans across every aspect of the Agricultural Value Chain, including R&D, agriculture inputs, farming, processing/ manufacturing, retail and export. DIMO aims to accelerate the agriculture mechanization process in Sri Lanka, while also facilitating the technical knowledge transformation for numerous stakeholders within the industry. This agricultural machinery training and research hub will also support the research and development initiatives of undergraduate and postgraduate students in the agriculture sector while promoting the implementation of collaborative research projects for testing, modification and adaptation of agricultural machinery.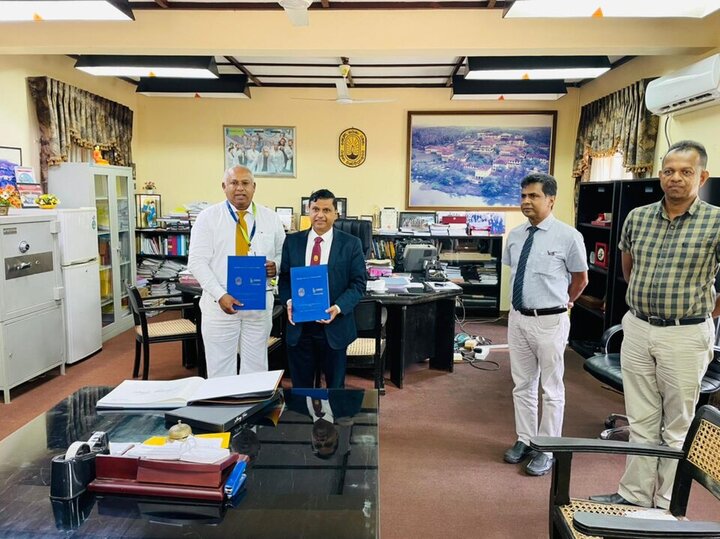 Mr. Gahanath Pandithage, Group CEO of DIMO, said, "DIMO is at the forefront of introducing the latest technological advancements to the farming community. For the development of any industry, the corporate sector needs to collaborate with academia. Finding the ideal fit between academia and the industry plays a significant role in this endeavour. We have always stood for fuelling the dreams and aspirations of the farming community in Sri Lanka, which is why we look forward to collaborating with academia and assisting in the process of elevating the local agricultural sector with the latest and advanced technologies through this partnership."
DIMO's partnership with the University of Ruhuna to develop the agricultural machinery training and research hub will also leverage the opportunity to promote the commercialization and patenting of invented machinery while facilitating the innovation in the sector. This initiative will also be instrumental in conducting practical programs in agricultural machinery testing and evaluation in undergraduate academic programs. The collaboration will also facilitate the preparation of promotional materials and scientific communications for the distribution of knowledge in the research sphere.
In the training domain, this partnership will assist with agricultural machinery training for undergraduate and postgraduate students. Another objective of this project is to facilitate industrial training programs within the degree programs to develop the industrial motor skills of the undergraduates of FAUR. These training programs will help DIMO to introduce the latest agriculture technologies to academia, farmers, and other government officials in the agriculture field.
Under this partnership DIMO will invest on necessary machinery, materials, and research and training. The University is well geared to offer its expertise, knowledge and resource personalities for this venture.
The Agricultural Machinery Training and Research Hub has already supported several undergraduate research projects focusing on inventing new paddy transplants, weeders and dryers that will be utilized for paddy cultivation in Sri Lanka. Prototypes of these new inventions have already been created.
END
Photo Caption:
Mr. Gahanath Pandithage, Group CEO of DIMO and Senior Professor Sujeewa Amarasena, Vice Chancellor of University of Ruhuna exchanging the agreements
About DIMO
Diesel & Motor Engineering PLC (DIMO) is involved in a number of related fields and represents many prestigious principals – Mercedes-Benz, Siemens, Jeep, KSB, TATA Motors, MTU, Komatsu, Michelin, Zeiss, MRF, Bomag, Claas, TK Elevator, Mahindra Tractors and Stanley to name a few. From a company known for vehicles, DIMO today has diversified into many areas. Medical Engineering, Building Management Systems and Services, Power Generation and Distribution, Material Handling, Storage and Warehouse solutions, Power Tools, Agricultural Equipment, Total Lighting Solutions, Power systems and Generators, Refrigeration, Ship Repairing and Driver Training Courses are some of the areas into which DIMO has entered during the past few decades. DIMO has also diversified into fertilizer and agriculture input market. DIMO successfully entered into overseas markets in the Maldives and Myanmar, by expanding their Marine and General Engineering services through partnerships in the Maldives and their automobiles and automobile servicing segments into Myanmar. DIMO is currently working to consolidate on current overseas operations with new markets in East Africa.