Responding to the national medical emergency Hemas Hospitals donates 500 Endotracheal (ET) tubes
Immediately donates lifesaving medical supplies to Castle Street Hospital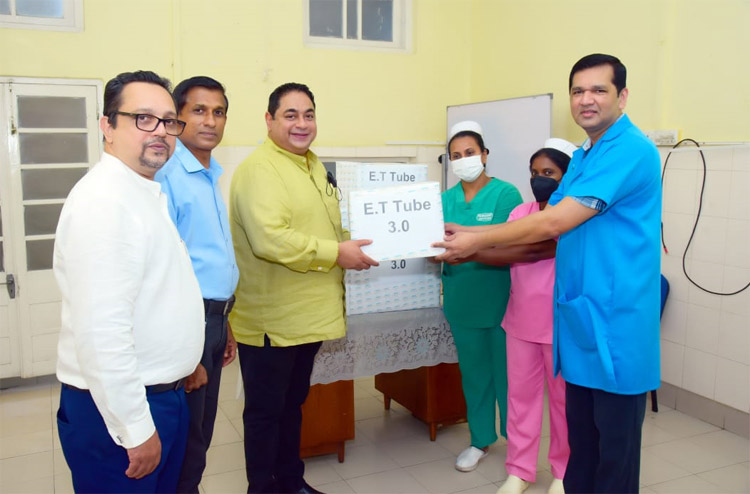 Hemas Hospitals responds to a desperate request by the medical fraternity by immediately donating 500 Endotracheal (ET) tubes to the neo-natal unit of the Castle Street Hospital for Women. The gesture was in immediate response to a recorded voice message which was going around by Dr. Saman Kumara, Consultant Neonatal Pediatrician of Castle Street Hospital, appealing for ET tubes which he said were crucial in ventilating newborn babies and were quickly becoming unavailable because of the current economic and political state in the Country.
Dr. Saman Kumara explained that the situation has become serious now. The hospital is forced to re-use disposable ET tubes and ventilator circuits, which he said, is not an adequate standard.
While giving over the devices to Castle Street Hospital, Dr. Lakith Peiris, Managing Director of Hemas Hospitals stated "As a responsible healthcare institution, we felt it was our priority and primary duty to promptly attend to this medical emergency."
"We acknowledged the dire requirement of Castle Street hospital and the important role that national hospitals play to communities. Any interference of necessary supply lines becomes a matter of life and death and needs to be addressed straight away, and it is in that mentality that we at Hemas felt it was our full responsibility to offer the essential ET tubes that are becoming extremely short in supply."
Dr. Saman Kumara in receiving the equipment conveyed his deep regard for Hemas Hospitals. "This is a humanitarian service – a donation that mirrors the values of an organization for which we are extremely grateful."
As Sri Lanka faces the bleak reality of an economic calamity, hospitals, island-wide are preparing for a possible shortage of life-saving devices.
Hemas Hospitals, as a leading private healthcare organization, pledges to do its best towards national level medical emergencies, with patient centricity fully at its core.
Photo Caption: [From L] Dr. Malith Athapattu GM Quality and Head of Medical Services Hemas Hospitals, Mr. Sanath Dassanayake Head of Supply Chain and Lean Transformation Hemas Hospitals, and Dr. Lakith Peiris, MD of Hemas Hospitals Chain handing over essential medical consumables to Dr. Saman Kumara, Consultant Neonatal Paediatrician of Castle Street Hospital.