How Pelwatte makes own animal feed to formulate its creamy rich dairy portfolio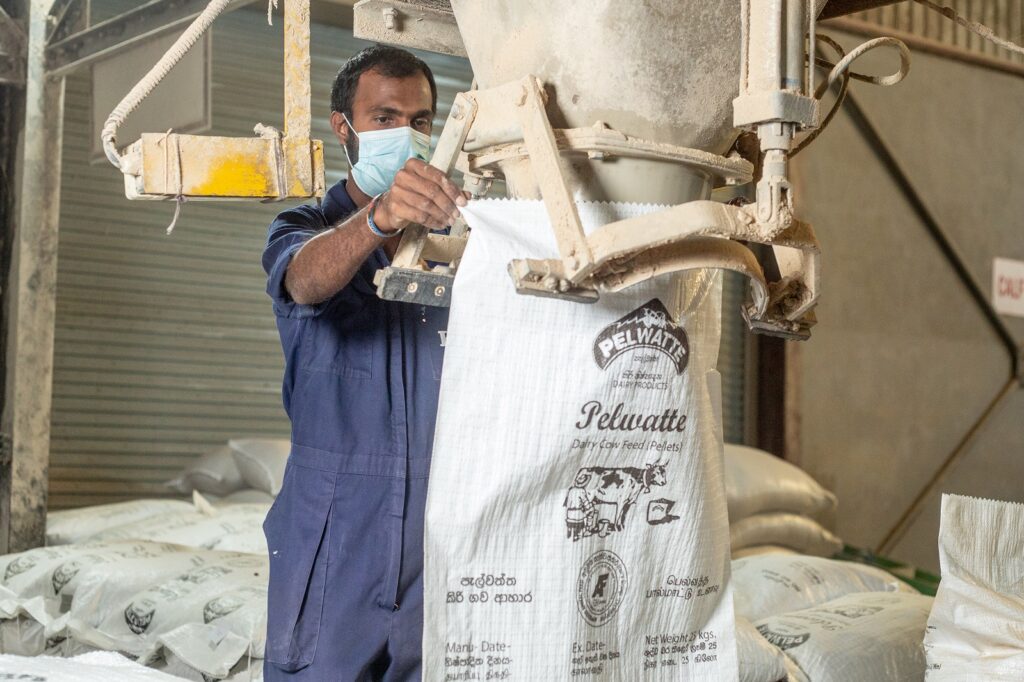 Pelwatte Dairy, one of the leading local dairy brands in Sri Lanka that produces a range of dairy goods and saves valuable foreign exchange for the country, has won the hearts of Sri Lankan dairy consumers thanks to its continued offer of Sri Lankan goodness to its dairy consumers.
Pelwatte also is reputed to make its own Cattle Feed. Pelwatte began producing its own feed since 2009 and does not compromise on the quality of their manufacture. Dairy cattle feed is not similar to usual cattle feeding since the quality and volume of the feed have direct impact on the quality and quantity of milk the dairy cows produce. Many different factors-such as the live weight of the animal, its stage of life and production, the ration of dry feed vs liquid feed to the animal, etc- are taken into consideration before the "feeding menu" of dairy cattle are finally decided by Pelwatte.
P.A.P. Kumara, Senior Executive, Mechanical Engineering, Feed Mill in-charge, elaborates: "Pelwatte observed that the cow nutrition as the main and important factor to increase productivity of the animal and serve tastier dairy to the consumer. We set up the animal Feed Mill giving priority in the project with a designed capacity of 60 MT per day of high quality animal feed. As a national dairy producer reputed for saving valuable foreign exchange on imports, I am pleased to say that since the setting up of the mill, Pelwatte has been producing its own animal feed for many years. We produce more than 300 MT cattle feed each month within Sri Lanka. This feed is used by our own dairy suppliers. The high-quality cattle of feed from at Pelwatte production facilities are backed by its registration with the Department of Animal Production and Health, in their various stages of manufacture-from raw material inputs to the output of animal feed pellets. We believe that it's the domestically created feed of such high quality is what gives the rich, creamy flavor in our dairy products."
The process of Pelwatte animal feed manufacture is demanding in its nature due to the need for adherence to quality. The raw material inputs such as corn and rice are first cleaned thoroughly removing any dust and other roughage. Minor and major ingredients are mixed after which they are arranged into batches. Mixing is a critical act since the quality of the mixing decides on the overall quality of the final product. Granulation, bulk density, accuracy of proportioning and mixing time are among factors contributing to a good mix. This prepared raw material is fed to conveyor belts for grinding which outputs the powder form of the mix. Molasses are mixed thereafter. Molasses give the palatability and edible feel to the rough pellets. This mixture of molasses and raw material blend is then 'cooked' at 85 degrees Celsius for 15 seconds to condition it. While it is hot the conditioned mix is pelleted thereafter and then these pellets are cooled. Such cooled pellets are sieved and good pellets coming from sieve are sent to packing mill while the rest are re-sent for pelleting until they acquire the quality of good pellets that are sent to packing mill. In order to maintain consistency and quality of the pellets as well as to reduce costs, moisture control is maintained. Moisture control also ensures there is no excess water or lower than required water levels in the pellets. The feed mill of Pelwatte Dairies Limited routinely produces mainly three types of cattle concentrate feeds. The "Pelwatte High Yielding Feed" is the concentrate feed for high yielding dairy cattle which has Metabolizable energy (2600-2750), Protein (16-17%) and Fat (5-7.5%). "Pelwatte General Feed" is the concentrate feed for average yielding cattle and contains Metabolizable energy (2450-2550), Protein (13.5-14%), and Fat (5-7.5%). The "Pelwatte Calf Feed" is the concentrate feed for calves with higher rates of the same- Metabolizable energy (2800-2950), Protein (18-18.5%) and Fat (5-7.5%).
Senior Executive P.A.P. Kumara adds: "The high yield feed is a concentrated, energy dense product with high protein. In general, the high yield feeds are used when other feeds do not have higher. The high yield feed is an essential food input for cows who usually produce higher volumes of milk. This feed gives such high producing cows with the strong and dense protein and nutrients that they require. Pelwatte feeds the high producing dairy cows on a plan of continued increase in the feeding volume in order to allow them to sustain their health as well as milk output. Since higher grain levels in the high yield feed can negatively impact the quality and quantity of milk, Pelwatte takes precautions to carefully moderate the grain percentage in its high yield feed. Among the raw materials we use in our production process are maize, wheat bran, soybean meal, d.c.p, industrial salt, lime powder, sodium bi-carbonate, rice polish, dhal husk, dhal bran, coconut poonac, Fertigen, and rice brand D-oil. Importantly, Pelwatte dairy cattle feeds produced are based on local feed ingredients. This is to assist the small-scale feed ingredient manufacture industry. Still, Pelwatte also produces custom feeds on demand. On numerous occasions, Pelwatte has catered to special needs for cattle farmers around the country."
The general feed is the feed given to dairy cows of average production levels and also male cows. They are neither over-fed nor under-fed. They too are given Pelwatte dairy feed pellets that nourishes them.
The calves are fed a bigger liquid meal in comparison to mature cows' solid feed who are already in production. Calves feed often include fresh milk. Additionally, as calves are growing, their protein demands become higher. This would be supplemented by soya and other grain-based pellets.
The Company rewards its key supply chain point –the farmers- continuously to sustain high quality milk inputs. Pelwatte now supports large number of dairy farmers in Sri Lanka.
About Pelwatte Dairy:
Having set up in 2006, Pelwatte Dairy, which specializes in milk processing, animal feed and dairy products is one of the Sri Lankan brands that successfully saves the outflow of foreign exchange for dairy product imports from abroad. The Company is ambitious to develop the dairy cattle husbandry in Sri Lanka with a view to establish a continuous and trustworthy flow of quality raw materials to the dairy industry. An ISO 22000:2018 certified Company, Pelwatte Dairy owns one of the most modern dairy factories (designed around Danish technology) that operates in Sri Lankan dairy sector at present.