Swadeshi Khomba illuminates Keragala Raja Maha Viharaya for 08th consecutive year
The Swadeshi Industrial Works PLC, the pioneer and the market leader in herbal personal care products in one of its community support initiatives recently sponsored the "Aloka Poojawa" of the historic Keragala Raja Maha Viharaya. Organized for the 8th consecutive year on the Duruthu Full Moon Poya day, "Swadeshi Khomba Aloka Puja Sathkaraya" is a concept of Swadeshi Chairperson Ms. Amari Wijewardene.
Situated in the Gampaha district, the Keragala Raja Maha Viharaya was built in the 13th century in the reign of King Vijayabahu during Dambadeniya Kingdom. The "Padmawathi Piriwena" was established in the Keragala Raja Maha Viharaya during the reign of King Parakramabahu VI in the 15th century.
Sharing her thoughts on the Aloka Pooja initiative, Swadeshi Chairperson Ms. Amari Wijewardene said, "Swadeshi being a Sri Lankan company which upholds traditional values and customs considers safeguarding the culture and traditional heritage of Sri Lanka by supporting initiatives such as annual Aloka Pooja. As a socially responsible company, we are committed to give our fullest support to these initiatives; thereby we set a perfect example for the generations to follow."
She further added, "Swadeshi Khomba illuminates places of worship in the country for the benefit and betterment if worshippers and also with the intention of educating younger generation on the importance of safeguarding the country's culture and heritage."
Swadeshi Chairperson, Ms. Amari Wijewardene has been continuously supporting religious places throughout the island. In 2013 the 'Sri Dalada Maligawa' of historic Dambadeni Raja Maha Viharaya and the ancient murals were renovated by Ms. Amari Wijewardene to bring back the past glory. Ms. Amari Wijewardene is the great granddaughter of Helena Wijewardene Lamatheni, who initiated renovations of the Kelaniya Raja Maha Viharaya in 1927.
Swadeshi Khomba continues to support the annual Aloka Poojas of Kataragama Kiri Wehera, Ruhunu Kataragama Maha Devalaya, Sabaragamu Maha Saman Devalaya, Devundara Sri Vishnu Devalaya, Aluthnuwara Sri Dadimunda Maha Devalaya, Mahanuwara Sri Maha Vishnu Dewalaya, Redigama Ridi Viharaya, Lankathilaka Raja Maha Viharaya, Ammaduwa Kuda Kataragama Devalaya, Deraniyagala Saman Devalaya and Dambadeniya Raja Maha Viharaya.
As a 100% local company Swadeshi continues its nation building and community CSR projects for our Sri Lankan communities. The Swadeshi Khomba brand is dedicated to carrying out sustainability projects which focus on caring for Mother Nature and enhancing cultural values. Company's many community outreach initiatives include, Island wide annual lighting ceremony of temples "Swadeshi Khomba Aloka Puja Sathkaraya", Hand washing sinks for temples and railway stations, Education on hand washing steps through a video targeting children during Covid 19 pandemic situation, "Swadeshi Khomba Mihithala Sathkaraya" Kohomba tree planting campaigns, Donation of water tanks for the communities, schools and temples in dry zone of Sri Lanka and Khomba Baby care gifts to pregnant mothers.
The pioneer and market leader in the herbal personal care category in Sri Lanka, The Swadeshi Industrial Works PLC, was incorporated in 1941. Among the brands of Swadeshi are Swadeshi Khomba, Rani Sandalwood, Swadeshi Khomba Baby, Perlwite, Lak Bar, Safeplus, Black Eagle Perfume, Khomba Hand Wash, Khomba Body Wash and Rani Shower Cream range. The company manufactures and markets the top herbal brand Khomba Herbal and heritage beauty brand Rani Sandalwood.
"As the country's leading herbal personal care products company, we would like consumers to learn more about the functional benefits of the herbal ingredients used by Swadeshi in all its products, we use only the best of Sri Lankan herbs, and all ingredients are extensively researched, and the products fully tested to ensure quality and all our products are 100% Vegetarian, Not tested on animals and Cruelty free. Swadeshi products including Swadeshi Khomba, Rani Sandalwood and Swadeshi Khomba Baby are accredited by the Vegetarian Society, UK." This stands testament to the company's forward-thinking practices, as well as our desire to help consumers make ethical and eco-friendly choices. The company has always considered the health and environmental impact of its products, and continues to prioritize it. Swadeshi, a truly Sri Lankan company has claimed many industry firsts to its name including the most recent Covid-19 safety management certification.
Swadeshi Khomba recently introduced a new addition to its range "Swadeshi Khomba Herbal Hand Wash" enriched with goodness of Kohomba which gives natural protection against germs. Swadeshi Khomba Herbal Hand wash is available in two variants, Swadeshi Khomba Herbal Hand wash – Kohomba with Lemongrass and Aloevera & Swadeshi Khomba Herbal Hand wash – Kohomba, Turmeric & Aloevera.
Photo Caption –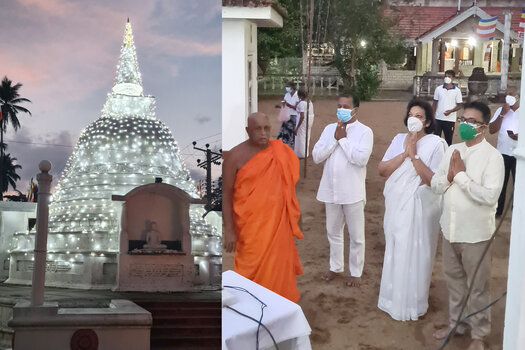 Ms. Amari Wijewardene – Chairperson of Swadeshi, the Chief Incumbent of Keragala Rajamaha Viharaya Venerable Rajawela Nandarathana Thero and officials from Swadeshi, illuminating the historic Keragala raja maha viharaya.