Sri Lanka's leading herbal care provider Swadeshi launches "Khomba Baby Avocado Soap" with global standards
New ingredient 'Avocado' provides mild, nourishing power of Vitamin A, D & E needed for the tender skin of the baby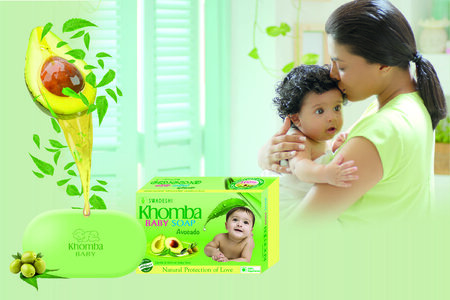 Sri Lanka's leading herbal care brand, Swadeshi has launched its newest herbal soap for babies based on lush ingredients of a super fruit in the world. Swadeshi's "Avocado" baby soap is made with a blend of ingredients from avocado and other herbal constituents bringing a soothing fragrance and essential nourishments to baby's delicate skin.
"Swadeshi boasts a rich history of herbal products manufacturing for over 80 years and as a Sri Lankan brand, we are truly committed to give the best products that guarantee safety and herbal benefits with the trust of 80 years. With the addition of Avocado soap to the predominantly "Khomba" based products, we advance to a new level in our offerings with a significant improvement to our line-up. It is with utmost confidence we say that all our products are manufactured using 100% vegetarian inputs with thorough research and we ensure highest quality compliance throughout the manufacturing process" a spokesperson of Swadeshi Industrial Works said.
The new Avocado soap includes Margosa, Avocado oil and Olive oil, which have been used for generations in natural skin care due to their well-known cleansing, moisturizing and nourishing properties. Avocado oil is one of the best skin hydrating and moisturizing ingredients which contains natural Vitamins A, D and E and many other nutrients that nourish and moisturize the baby's skin. Avocado oil also packs omega-3 in addition to these vitamins. Avocado is also known for its rich nutrition that soothes the skin while protecting against itchiness and dry skin. All fragrances used in Swadeshi Swadeshi Khomba Baby are certified by International Fragrance Association (IFRA) and produced under ISO 9001 – 2015 standards. "Kohomba", also known as Neem / Margosa, is a key ingredient in all Khomba Baby products that protects baby's skin with its gentle cleansing power.
Swadeshi Khomba Baby is always associated with nature's colors and Avocado soap too simulates that with a light green color soap tablet and a new packaging. The Avocado soap is available in a five in one economy pack, while Swadeshi has committed to a green concept with a no-polythene, recyclable packaging.
Swadeshi Khomba Baby is the only herbal brand in the market with a wide range of products from soap to cologne, cream, powder, oil, shampoo and gift packs. With the newly introduced Khomba Baby Avocado Soap, the Khomba Baby soap brand now consists of four variants of soap including Khomba Baby Herbal Soap, Khomba Baby Floral Soap, and Khomba Baby Venivel.
The pioneer and market leader in herbal care products, Swadeshi Industrial Work PLC is an ISO 9001 – 2015 certified company which was established in 1941. Among the popular brands of Swadeshi are Khomba Herbal, Rani Sandalwood, Khomba Baby, Perlwite, Safeplus, Lak Bar, Lady, Black Eagle Perfume, Khomba and Rani shower gel range. The company manufactures and markets the top herbal soap brand, Khomba Herbal and heritage beauty soap brand, Rani Sandalwood.
All Khomba Baby products are certified and registered under National Medicines Regulatory Authority (NMRA) affiliated to the Health Ministry of Sri Lanka. All fragrances used in Swadeshi products are certified by globally accepted International Fragrance Association (IFRA) and produced under ISO 9001 – 2015 standards. Kohomba (Neem/Margosa) is a key ingredient in all Khomba Baby products that protects baby's skin naturally from germs and irritations with its mild and gentle cleansing power. Swadeshi incorporates state of the art machinery and research equipment to innovate new herbal care products to the market. The company's focus on high-quality products is evident from its investments on R&D and it has several fully-fledged laboratories certified under ISO 9001 – 2015 standards.