HUTCH redefines telecommunication experience as the "SMART" choice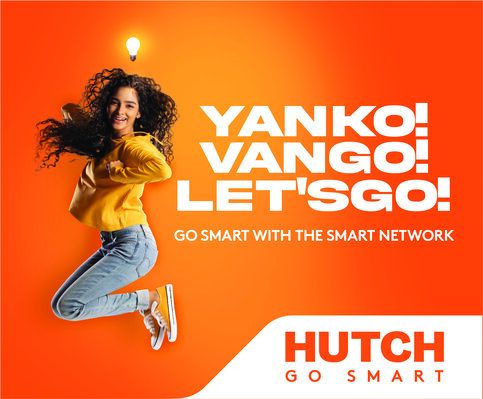 Reiterates commitment to Sri Lanka as the best value broadband services provider in the country
Launching a refreshing new communications campaign, HUTCH asserted its market positioning as the "SMART" telco experience provider.
As a result of the company's continuous efforts to provide a superior customer experience through a Bigger and Better network, built-in consumer conveniences and great value for money products, HUTCH has been able to serve its loyal and ever growing customer base and the company has many new initiatives planned to further cement the great customer experience that only HUTCH can provide.
The latest HUTCH brand campaign titled "Yanko! Vango! Let's Go Smart with HUTCH" is a call to action for the nation to get up and move to a smarter way to think, live and act.
"We hope to be the catalyst that will make this change come about and especially inspire the youth of Sri Lanka to embrace change and work, learn, play, dream smarter so that they can achieve all their life goals" says Ramzeena Morseth Lye, Chief Marketing Officer of HUTCH.
Multiple market studies reveal that consumers are highly concerned about quota limitations, lack of transparency on data usage, constant bill shocks, poor customer service and other gaps in the industry resulting in customers searching for a better alternative.
As a fully customer centric brand, HUTCH was quick to address customer pain points – a major reason that contributed to the company's successful market penetration in the recent years. With a Bigger and Better 4G network, HUTCH is now geared to serve its customers through continuous upgrades to its service offerings truly understanding what customers yearn for.
Through the new advanced HUTCH Self Care app and its unique HUTCH cliQ app, the company continues to conveniently offer great value for money propositions while maintaining 100% transparency in the pricings and usage associated with its packages. Customers can also access all products via the HUTCH website and those who dial Hutch USSD codes for package activations are duly notified of the prices and package details. Both pre-paid and post-paid customers are notified when they are reaching quota limits via a SMS, which ensures that charges are not unnecessarily incurred from their main balance.
HUTCH has reinforced its Customer Service via a host of different access points from dedicated hotlines, social media, WhatsApp, Viber, website and through the Hutch Self Care app delivering a holistic SMART experience.
Commenting on the new campaign, Thirukumar Nadarasa, CEO of HUTCH said, "Today, we embark on a new journey as the SMART telecommunications brand that is sensible and sensitive in all its actions, as we always only hold the customers best interest at heart. We remain committed to Sri Lanka and our customers as we look to take a bold stride in bridging the digital divide through more practical and affordable mechanisms. What is remarkable is that we were able to ensure that our wide assortment of innovative plans and access points truly match our customers' expectations. We can be proud of our efforts so far to ensure our customers have a great service experience every day and I would invite everyone to try the new Hutch experience!" Hutchison Telecommunications Lanka (Pvt) Ltd, the local subsidiary of Hong Kong based CK Hutchison Holdings Limited has emerged as a 'force to reckon with' among other mobile network operators in Sri Lanka. Post Etisalat acquisition in 2019, HUTCH mobile network grew rapidly and now serves both 078 and 072 subscribers. HUTCH's groundbreaking 4G expansion was a watershed moment that propelled it to a leading 4G network hub. The expansion enabled HUTCH to provide a "Bigger and Better" service catering to the network needs of people from every corner of the island