IIT bags multiple awards including first-ever "BCS Chairman's Award" at National ICT Awards (NBQSA) 2020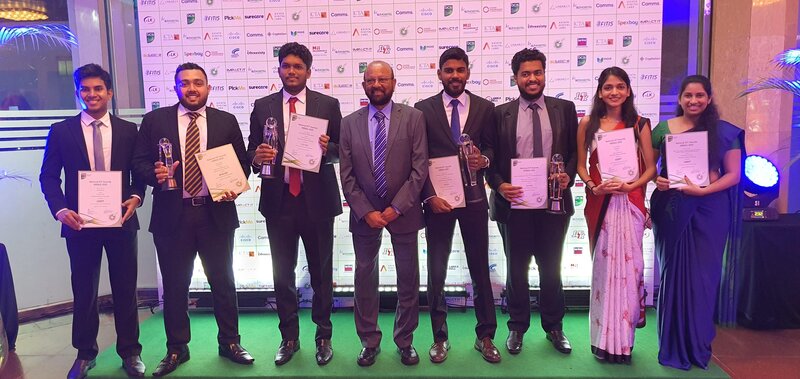 Informatics Institute of Technology (IIT), the pioneer in British higher education in Sri Lanka and the country's premier IT and Business campus, won multiple awards including the first-ever BCS Chairman's Award at the recently-concluded National ICT Awards (NBQSA) 2020 held at the BMICH, continuing its winning trend in this prestigious annual award ceremony.
The BCS Chairman's Award was presented to IIT in recognition of having the highest number of award-winning students at the event as seven IIT students bagged awards for their outstanding IT and Business innovations. In the "IT" Category Stelan Bryan won Silver for Smart Shoe, Dilum De Silva won Bronze for DAugmentor while Nisal Sudil took home a Merit award for CadiaRhythm. In the "Business" Category, Irfan Ismath bagged the Gold award for Trustcredit with Kavishma Jayasinghe winning the Silver for Style Guide while Gayalie Jayawardhane and Hannah Natasha took home Merit Awards for their innovations TransAssist and Chain of Ownership respectively. IIT students have been winning awards at National ICT Awards for several years and a number of those winning innovations have gone on to receive international acclaim while also becoming successful business ventures.
Commenting on the award wins, Founder & Chairman of Informatics Group Dr. Gamini Wickramasinghe stated, "We are proud to be the recipient of the first-ever BCS Chairman's Award at the National ICT Awards (NBQSA) thanks to the remarkable achievements of our highly-talented IIT students. As a pioneering educational institute IIT has been able to revolutionize not only the higher education sector of Sri Lanka, but also the ICT industry as a whole. The rapid growth of IIT and its large alumni base is a clear indication of the institute being the most preferred choice of those who seek world-class quality educational qualifications right here in Sri Lanka."
CEO of IIT Mohan Fernando commented, "Our students have always been a cut above the rest and this has been proven by the rich haul of awards they have been consistently winning at the National ICT Awards (NBQSA) over the years. Many of these students have taken their products to the next level by participating and winning at other local and international competitions thereby making all of us extremely proud. Some of them have also launched their products as successful business ventures by acquiring investors while others are on the road to do so."
Dean of IIT Naomi Krishnarajah stated, "At IIT, we strive to transform the way our students learn to make them the most employable graduates and truly global citizens. The academic programmes and co-curricular activities facilitate not just making a student literate but also adds rationale thinking, knowledgeably and self-sufficiency. Creativity and innovation are also fostered through the diverse learning methods and experiences provided. The academic panel has been instrumental in inspiring and guiding students in achieving their full potential. While congratulating our students, we wish them success in their careers."