Founder and CEO of Rootcode Labs Wins 'ICT Entrepreneur of the Year' Award at The National ICT Awards 2020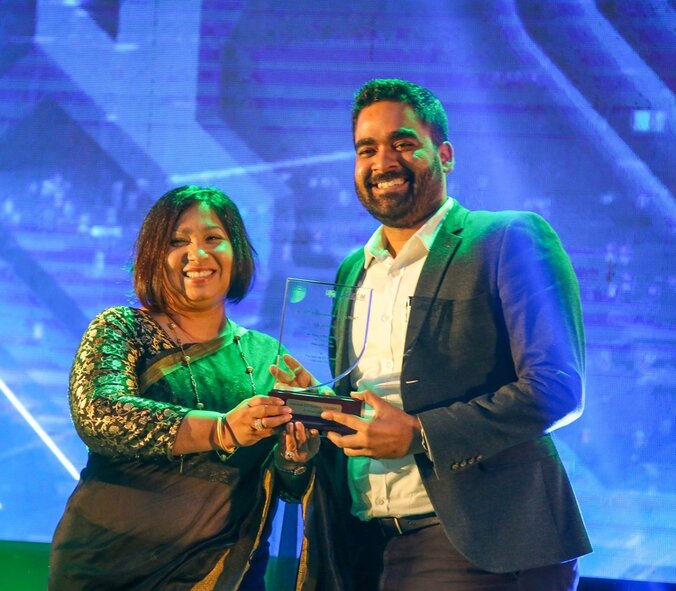 Founder and CEO of Rootcode Labs Alagan Mahalingam was named 'ICT Entrepreneur of the Year' at the National ICT Awards (NBQSA 2020) which was held at the Bandaranaike Memorial International Conference Hall on Wednesday, 3rd February 2021.
The gala awards ceremony was organised by the Sri Lankan chapter of the British Computer Society (BCS) – The Chartered Institute for IT – for the 23rd consecutive year, with the main aim of providing international recognition for the outstanding achievements of Sri Lankan people and organisations. The annual competition seeks to improve the standard and quality of local ICT products and services to facilitate their entry into the international market. National participants of the NBQSA are further nominated for the Asia Pacific ICT Awards (APICTA).
The National ICT Awards 2020 shone a limelight on Alagan Mahalingam's untiring efforts towards driving his brainchild Rootcode Labs to great heights. Elated at the announcement of the award, Alagan Mahalingam stated: "This award goes to my brilliant team who make me want to keep pushing myself even further."
Coming from a very humble background of teacher parents, Alagan had a strong desire and vision to build an international business in the future. As a student, he worked with several international research organisations – such as the Geoinformatics Center of the Asian Institute of Technology, Thailand – and was also a Google Student Ambassador for South-East Asia, where he worked on University Empowerment and Coordination for the entire region.
He was also offered a student research position at The University of Tokyo, Japan, during his second year there, where he got the chance to work on Solar Panel Optimisation algorithms with industry-leading professors like Prof. Gento Mogi. Alagan's first product Signify, an AI-based singing and learning app, won the Gold award in the Entertainment category of NBQSA 2016 and was further nominated for the Asia Pacific ICT Awards.
After the successful exit of Signify, he went on to establish Rootcode Labs – a software product engineering company that helps businesses worldwide build high quality software. Rootcode Labs is known for going the extra mile to innovate, while specialising in mobile and web app development as well as in Artificial Intelligence.
It is guided by the vision of making world-class software easy and affordable to any business. And Mahalingam shows great spirit when it comes to leading his incredible team on this very path. Primarily catering its products and services to Europe, North America and Asia, Rootcode Labs is on a mission to be the most trusted technology partner for businesses worldwide, helping them create the best technological solutions.
With the outbreak of the COVID-19 pandemic in 2020, Alagan identified and realised the potential of distance-based services which then led him to establish Expert Republic, an on-demand video consultation app that allows anyone to book a 1-1 video session with professional experts to learn, solve and improve in areas of their choice – including personal coaching, fitness training, counselling, yoga & meditation, technology consulting, startup consulting, public speaking, cooking & baking, interior design, vocal coaching and much more.
Expert Republic also secured a Silver Award under the 'Consumer Marketplaces' category at NBQSA 2020. Additionally, Rootcode Labs won a second award at the ceremony – a Silver award for 'Startup of the Year' which is a testimony to the staggering growth witnessed by the company over the past year.
###