Pelwatte adds colour this Avurudu with its new products and special discounts
Pelwatte Dairy, the home-grown leader in dairy products is offering exclusive discounts for its most sought after Pelwatte Butter and Pelwatte Ghee at Keels Super Markets and selected retail outlets around the Island until the 30th of April 2021.
This Avurudu Season, as Sri Lankans celebrate the most anticipated season of the year with their families, friends and loved ones, Pelwatte announces its discounts of 10% on its Ghee and Butter products at Selected Super Market Chains and retailers. Thereby allowing Sri Lankans to celebrate this Sinhala and Tamil New Year while indulging to their sweet meats and tables of their choice.
Pelwatte can be considered as one of the healthiest products for consumers of all ages as most stringent quality standards are followed during production of Pelwatte products while no artificial preservatives etc. are added to increase shelf-life.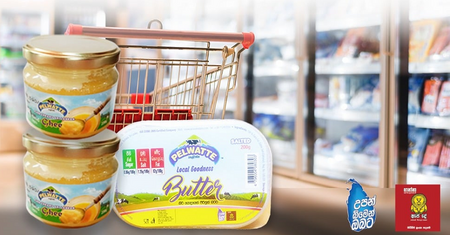 Commenting on the offer, Chaminda Pathirana, Manager – Modern Trade said, "We are indeed very privileged to be able to offer exclusive offers on our most demanded products during this Avurudu season. We believe that the unmatched quality and price will surely help our consumers, while also supporting the dairy farming community."
Pelwatte butter is produced using the fat from locally sourced milk, is high in nutrients and healthy as well; the butter is made from the fat in fresh milk with no added preservatives. Fresh milk contains about 4-5 % fat and the process of butter production tends to increase the fat percentage so in order to control the fat percentage a standardization process is used which is also another reason as to why Pelwatte Butter is considered all-natural.
In addition, Pelwatte has a broad ice cream profile and has introduced whole new ranges, under premium range and the economy range. The existing Pelwatte Ice Cream ranges are Vanilla, Chocolate, Fruit & Nut, Banana, Mango, Strawberry, Coconut with Cardamom Ice cream, Coffee with Cardamom, Blueberry, Faluda, Ginger biscuit and Butterscotch.
Pelwatte's extensive product range is used in kitchens of many leading star hotels. Amongst the product ranges that are supplied to the hospitality industry, Pelwatte Ghee is used to prepare main courses from Thai, Indian, Indonesian, Middle Eastern and Malaysian cuisines.
Pelwatte Dairy has always been intently focused on meeting the country's domestic milk demand while uplifting the socio-economic status of local dairy farmers. While the nation's self-sufficiency in milk production remains the primary mission, Pelwatte Dairy supports farmers, their livelihoods and families in myriad ways – empowering them and steering their growth as well as that of the nation'