IIT marks 30 years of educational excellence by unveiling "Achievers Scholarship Scheme" to reward the "best of the best" A/L students in Sri Lanka
Informatics Institute of Technology (IIT), the pioneer in British higher education in Sri Lanka and the country's premier IT and Business campus, is celebrating its 30-year journey of educational excellence by launching the "IIT Achievers Scholarship Scheme".
For 30 years, IIT has been consistently delivering qualifications and quality valued in Sri Lanka and around the world through its globally-recognized degree programmes. As a pioneer in Higher Education Sector, IIT has reshaped and revolutionized the sector by empowering graduates to become innovators, entrepreneurs and business leaders who have made their mark across the globe. The IIT Achievers Scholarship Scheme is the latest in its long list of ground-breaking educational offerings for local students. It is a unique programme that is only open to the very best of the top-performing G.C.E. Advanced Level (A/L) examination students who have managed to achieve results of a minimum of 3 As in their relevant study stream. This approach of providing scholarships to the brightest young minds of the country is in line with IIT's general entrance criteria for all programmes that are widely-known to be one of the highest in the country.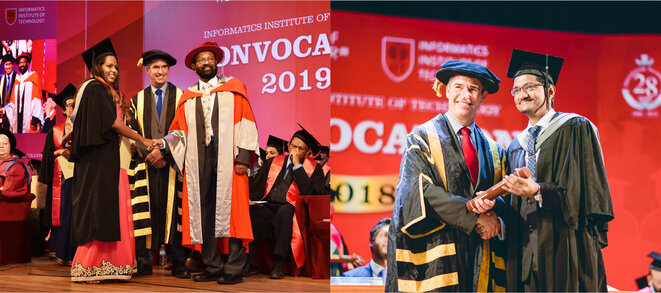 The scholarship programme enables the selected students to fast-track their entry into a career in IT and Business by obtaining globally-recognized UK degrees. While their results will guarantee their place in a leading local university, by following one of the five degree programmes by IIT, the selected students have the opportunity to obtain a degree from a UK university that has a global ranking higher than any local university. Additionally, they will be able to commence the degree immediately and complete it in 4 years thereby saving them valuable time and giving them a head start in their careers.
Under this innovative scholarship scheme, London A/L students who have obtained a minimum of 3 As are presented with significant savings with those obtaining 3 A*s eligible to obtain a highest saving of 50%. In local A/Ls, all students who have obtained a minimum of 3As in the Tech, Science, Maths, Arts and Commerce are eligible to apply with those with an Island Ranking of Top 50 or 100 being eligible for highest savings. Additionally, students who have proven themselves in leadership positions or excelled in sports in roles such as Head Prefect, Deputy Head Prefect, National or School Colours and Games Captain are also eligible for these scholarships. In order to support students whose studies have been disrupted due to the pandemic in the country, IIT has ensured that these scholarships are effective for students who have joined IIT in the September 2020 and January 2021 intakes with pending results. These scholarships are applicable for the Year 1 (L4) of all 5 degree programmes currently offered at IIT. Year 2 and final year of the scholarship will be determined by their academic performances in Year 1.
IIT offers five full-time 4-year degree programmes for students. The School of Computing offers BSc (Hons) Computer Science and BEng (Hons) Software Engineering awarded by the University of Westminster UK as well as the BSc (Hons) Artificial Intelligence and Data Science awarded by the Robert Gordon University, UK. The School of Business offers the BSc (Hons) Business Information Systems and the BA (Hons) Business Management awarded by the University of Westminster UK. All 5 degree programmes are recognized by the University Grants Commission of Sri Lanka.
CEO of IIT Mohan Fernando stated, "The IIT Achievers Scholarship Scheme is our latest innovation where we intend to recognize and reward the very best of the top-achieving students from both local and London Advanced Level examination by giving them scholarships to pursue one of the 5 world-class UK degrees that we have on offer here at IIT. IIT has always had a proud history of attracting only the best and brightest young minds to the campus and this programme is a continuation of that approach. Through this programme we can provide these outstanding students a launch pad to realize their dream of obtaining an internationally-recognized degree in ICT or Business so that they get a head start in their careers and are thereby well set to succeed in life."
IIT was established in 1990 as the first private higher education institute that awards reputed British degrees in the field of ICT and Business. IIT is an award-winning campus offering internal postgraduate and undergraduate degrees from the University of Westminster, UK and the Robert Gordon University, UK. IIT has played a pivotal role in strengthening the IT and Business sectors in Sri Lanka over the years by producing world-class graduates. Since its inception in 1990, IIT has produced over 5,000 graduates who are now based in many countries around the globe. These graduates have gone on to become successful entrepreneurs and IT/Business professionals in both local and international corporate and government entities. They have played a pivotal role in empowering over 250 multinational and local blue-chip companies by holding key strategic positions while contributing immensely towards the growth of their respective organizations.
For more information about IIT Achievers Scholarship Scheme, log on to www.iit.ac.lk or call on 0766 760 760.
Photo Caption
Students of IIT receiving their degrees from Dr. Gamini Wickramasinghe, Founder and Chairman, Informatics Group and Dr. Peter Bonfield Vice-chancellor and President University of Westminster UK