Huawei Y series raises the bar with unmatched features
The world's leading smartphone brand, Huawei is well known for disruptive technology innovations that provide a seamless user experience. Among its most popular smartphone innovations, Y series is significant due to several aspects such as affordable price points, value for money features, stylish designs, overall performance and more. Designed to make premium features accessible to all, Huawei Y6p, Huawei Y5p and Huawei Y7a are three of the highly embraced smartphones in the Y series.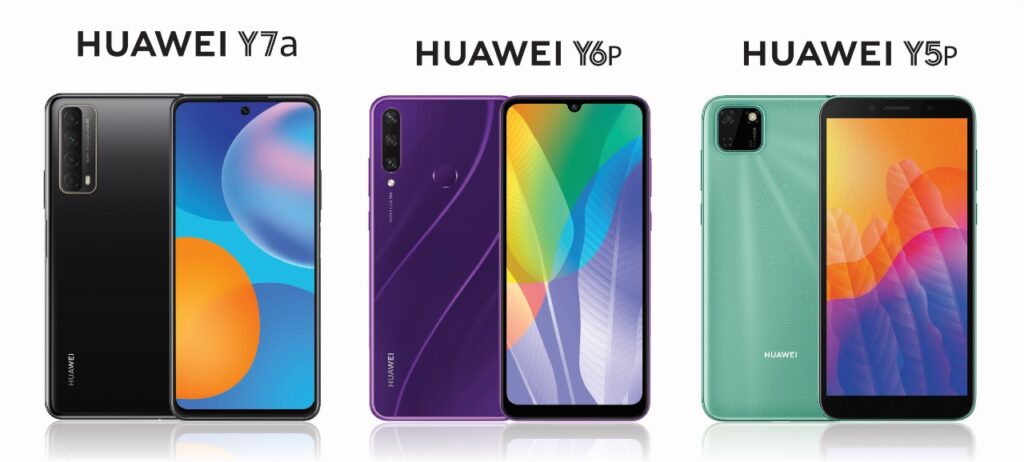 When it comes to Huawei Y6p, it is packed with a 4GB RAM + 64GB storage, providing a lag free performance and enough space to store all files, videos, photos and apps. A specialty of Y series is that all smartphones are powered with a bigger battery and Y6P is no different. It comes with a 5000mAh long lasting battery that assists in daily tasks for a couple of days with regular usage. A bigger battery means the user can go on with everyday tasks such as playing games, videos, browsing internet, social media without any interruption.
The stylishly designed Y6p is a treat to hold in the palm and the 6.3-inches dew drop display with 88.8% screen to body ratio offers an immersive viewing experince. Another significant aspect of Huawei Y6p is the camera department which houses triple cameras. It comes with a 13mp main camera, 5mp ultra-wide camera and a 2mp depth camera, making it ideal for mobile photography. The 5mp ultra wide camera offers a 120° capturing range that enables the user to easily capture a vast viewpoint and more depth of field when taking nature photos or group photos in one frame. The 8mp selfie camera is equally powerful and provides stunning portraits with automatic retouching. The feature packed Huawei Y6p is available in phantom purple, emerald green and midnight black colors.
Yet another powerful device in Y series is the Huawei Y5p, which is more affordable than the Y6p. It is also packed with attractive features and a stylish design. Y5p comes with a 2GB RAM + 32GB storage- a combination which is more than enough for everyday activities such as playing games, watching videos, browsing videos and for educational purposes. The 5.45-inches smartphone features a 3020mAh battery, which is capable of getting through daily tasks easily. Huawei Y5p includes a 8mp HD rear camera and a 5mp selfie camera to discover beauty in more stunning perspectives. This compact device is available in three refreshing colors such as midnight black, phantom blue.
Huawei Y7a is the most feature packed smartphone in the Y series and one of the highly embraced devices during the recent past. The main reason being, it features the biggest display in its price range with 6.67- inches to be precise, offering an immersive viewing experience. Even though it is rich with best in class features, Y7a was launched at an affordable price point, making it highly popular among the youth. Its 48MP quad camera setup, 4GB RAM + 128GB storage, 5000mAh battery and elegant design are major highlights of this powerhouse smartphone.
The 6.67-inches large display with 90.3% screen to body ratio makes sure to keep the user intact and focused on the viewing area. The rounded corners of the device provide comfort when holding it in the palm and is important for gaming purposes with the ability to easily maneuver the device.
Huawei Y7a packs a 48MP Quad camera set up that consists of a 48MP main camera with f/1.8 aperture, 8MP Ultra wide angle lens with f/2.4 aperture, 2MP Depth lens with f/2.4 aperture and 2MP Macro lens with f/2.4 aperture. The AI powered quad camera combination is a perfect fit for mobile photography and it creatively captures stunning images day or night. The super night mode feature makes sure that images captured in low light conditions are clearer and noise free. The 8MP selfie camera slotted by way of a punch hole is equally powerful and captures clearer and vivid images.
Huawei Y7a is equipped with a Kirin 710A processor, which is reputed for its fast processing power and lag free performance. The 4GB RAM also assists in providing a lag free performance and its 128GB storage provides enough space to store photos, videos, apps and files. When it comes to multi-tasking, Y7a is on par with most other devices in the mid-range category.
Its 5000mAh battery easily allows for at least two days of regular usage while effortlessly supporting for up to 38.2 hours of 4G calling, 16.6 hours of online video playback and 12 hours of 4G internet browsing. With Huawei Super charge technology, Huawei Y7a can be charged faster and a 10-minute charge enables the user to play videos up to 2 hours.
Huawei Y6p is available to purchase for Rs. 30,999/-, Huawei Y5p for Rs. 19,999/- and Huawei Y7a for Rs. 39,999/- at all Huawei experience centers, island wide Singer showrooms, Daraz.lk and Singer.lk.