WHO WANTS TO BE GLOOMY WHEN VIVO V21 5G 44MP OIS NIGHT SELFIE SYSTEM IS HERE TO LIGHT UP YOUR NIGHT!
Remember the buzzwords? – Selfie queen, selfie time, selfie love, selfie twins, post-work selfie…the list goes on! In today's fast-changing world, people of all age groups document their lives through pictures and vlogs. There's no denying that the 'selfie culture' is an important part of the modern mindset. To help the enthusiastic consumers, the industry has developed innovative smartphones with exceptional camera features, but the biggest challenge is blurry and shaky images in a low light environment.
Understanding the pain points of night photography and videography, vivo as a consumer-centric brand has deployed Optical Image Stabilization (OIS) in its V21 5G to satisfy photography enthusiasts and content creators. Since holding the phone steady during shoots can be tiresome, the industry-leading OIS technology allows users to click steady and ultra-clear photos. The inbuilt gyroscope detects the movement of the subject, and the Micro-Electro-Mechanical System (MEMS) adjusts the camera lens accordingly.
vivo V21 5G offers a 44MP OIS Night Selfie system for an unmatchable selfie experience. Its 44MP OIS Super Night Selfie comes with super light sensitivity and high tolerance to capture the best in dark surroundings. It can extend the exposure time and increase the amount of light intake, which helps brighten the setting and get clearer selfies. Allowing you to capture perfect moments in their truest form, the V21 5G's excellent camera will undoubtedly make your drives far more memorable.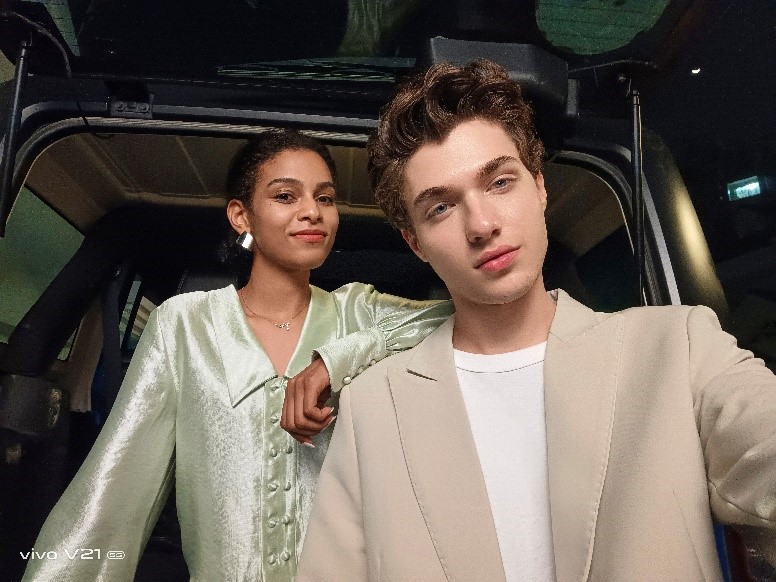 V21 5G's 44MP OIS Super Night Selfie feature is going to be highly beneficial for social media users and content creators. Their feeds demand a regular call for selfies and vlogs, and with the V21 5G's innovative camera, users can effortlessly unleash their creativity. The camera automatically stabilizes photos and even reduces noise – unlocking a whole new world of possibilities for selfie lovers with its high-end features in a mid-price range. vivo has innovatively added two OLED spotlights under the front panel of the selfie camera, which can be turned on while taking photos and recording videos to simulate photography studio lighting!
Additionally, the OIS support in the front camera also compensates for handshakes by virtue of the camera movement. When a camera moves downwards due to handshakes, OIS can direct the camera to move upwards in compensation, allowing photos and videos to remain stable. V21 5G's 44MP OIS Super Night Selfie is compatible with the Eye Autofocus feature, and the AF lens module can automatically adjust the focus with the human eye focus algorithm. It can capture human eyes in real time, keeping continuous, fast and clear focus on eyes while users are in motion.
V21 5G is the epitome of style and innovation known to enhance mobile photography experience. Its Dual-mode 5G network brings users a smoother 5G connection experience. The 7.29mm[1] Ultra Slim AG Design gives a silky-smooth finish, inspired by the beautiful colours of nature, connected with a narrow Flat Frame Design that wraps around the phone for a bold yet sleek look. vivo has used a unique transitional technique to connect the frame and the back panel to provide smoother texture, a premium feel, and a stronger grip. Indeed, V21 5G is here to delight every user who is looking to buy a premium device with a high-performance camera and hardware solution.