Pelwatte to strengthen local dairy production
Pelwatte dairy the country's forerunner in Dairy Production has communicated plans to reinforce and strengthen the Dairy industry in Sri Lanka. In this way guaranteeing a consistent progression of milk production to fulfil the local demands, offer support to the farmers and communities and support the economy.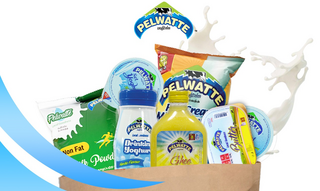 Pelwatte Dairy Industries as an organization of tremendous social and economic value; has been offering its unflinching support towards dairy farmers and their families, the Sri Lankan economy, and the nation overall having saved over 50 Billion in Foreign Payments for Milk since it started production in 2006.
Pelwatte is on a renewed mission to produce sufficient Milk products, especially concerning the time at which people find it hard to find these consumer products; owing to the import restrictions in place, the country's trade deficits and depreciation of the rupee against the US dollar. The company believes to meet the domestic milk demand and to also uplift the socio-economic status of local dairy farmers, supportive industries and locals.
The company has taken steps to offer cattle to farmers, instalments for sheds, consultation and training to Dairy Farmers to ensure the quality of the milk and the health of the cows. Pelwatte has helped dairy communities resolve farmland issues with departments and also establish proper processes from start to finish in the supply chain; from milking to chilling and transportation to production. The company has also taken steps to recruit people for auxiliary services as well. All this to increase the production and growth of the Dairy Industry in the months to come.
Managing Director of Pelwatte Dairy, Mr Akmal Wickramanayke said, "As a local leader, we hope to put up necessary frameworks and processes to ensure that every Sri Lankan looking for Dairy products will not leave the stores empty-handed. We are In the process of expanding production, improving logistics and also trying to preserve Pelwatte's proclaimed quality all the time along its way."
He added saying, "It is why we remain heavily invested in working with and uplifting lives of the consumers and dairy farmers and those of the supportive industries with an intense focus of raising the socio-economic standards of the economy.
The company has substantially been sourcing milk from locals following strict guidelines and testing ensuring its quality and hygiene stays intact. This alone has been the livelihood of over 1000 families around the area with an assurance that all small-scale farmers and private farms will have a guaranteed buyer in them, and that their products will always be competitively priced.
The company strongly invests in resource productivity, capacity building and regularly carries out training programs regarding cattle nutrition. They regularly invite farmers from all parts of the island to visit and undergo training programs. The highly trained farm professionals show the farmers practical usages of various feeds along with nutrition combinations using fodder grown in their extensive grasslands.
While the nation's self-sufficiency in milk production remains the primary mission, Pelwatte Dairy supports farmers, their livelihoods and families in myriad ways – empowering them and steering their growth as well as that of the nation's
Pelwatte, Sri Lanka's 100% local dairy producer has since its commencement been driven by a dream of making this country independent in milk, paying special attention to research, development and innovation. This has assisted it with adding value to all stakeholders in the value chain.