Chairman of Velona Cuddles keeps Sri Lankan flag flying high at ACEF Asian Leaders Awards 2021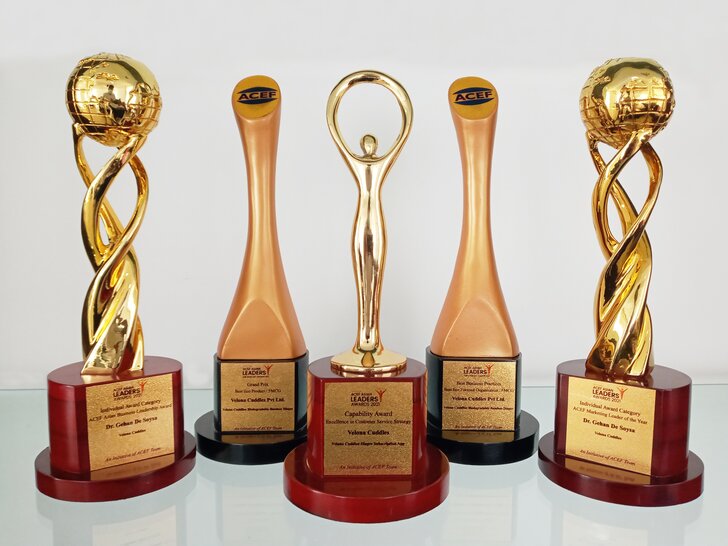 Velona Cuddles (Pvt) Ltd., was in the limelight at the 2021 edition of the ACEF Asian Leaders Awards for Branding, Marketing and CSR, clinching 5 Gold awards in multiple categories. These categories included the 'ACEF Asian Business Leadership', 'ACEF Marketing Leader of the Year', 'Excellence in Customer Service Strategy', 'Best Eco Product/FMCG' and the 'Best Eco Focused Organisation/FMCG'. These prestigious awards further cement the brand as a market leader in baby hygiene products and solidifies the brand's commitment to being a sustainable, responsible and an eco-friendly corporate.
As recognition for his invaluable leadership and integral role in the company's great success over the years, Dr. Gehan De Soysa, Chairman of Velona Cuddles (Pvt) Ltd., won two Gold awards in the ACEF Asian Business Leadership and ACEF Marketing Leader of the Year categories.
Commenting on these achievements, Dr. Gehan De Soysa stated, "I am honoured to have been bestowed with these two awards and it is truly a highlight in my career, and I couldn't be happier.  I also could not be prouder of the team at Velona Cuddles for bagging multiple awards on this prestigious platform. We have always strived to be a company with a heavy focus on sustainability while being a responsible corporate citizen. I am truly amazed by our R&D team who worked tirelessly to develop products to stay true to this cause and in turn, earning the company these prestigious awards".
Velona Cuddles (Pvt) Ltd. took home a Gold Capability Award in the Excellence in Customer Service Strategy category. This was achieved by identifying the need for a more convenient means of ordering and purchasing products, through the Velona Cuddles Diaper Subscription App. The App, a first of its kind in Sri Lanka, enabled users to make one-off orders, preschedule diaper orders with an island wide delivery capability. The App also allows users to customise bundles to suit their needs while offering an attractive loyalty programme as well.
Velona Cuddles (Pvt) Ltd, bagged two Grand-Prix awards in the Best Eco Product/FMCG and the Best Eco Focused Organisation/FMCG categories for the introduction of the eco-friendly and biodegradable range of bamboo diapers. The range includes the Velona Cuddles Australian Bamboo Diaper with a 75% capacity of deteriorating within three months, and Bamboo Water Wipes which are 100% biodegradable and is the only product in the market that utilises a natural wiping material.
A market leader in the baby hygiene sector of the nation, Velona Cuddles (Pvt) Ltd., has grown its revenue at a rate of 34% annually since the introduction of the Velona Cuddles Diaper range. The diaper range has also been successfully introduced to foreign markets such as Australia, Indonesia, Kiribati, Mongolia, Vanuatu, Israel, Malaysia, Maldives, Qatar and Vietnam.
End