Softlogic Information Technologies wins monumentally within the Asia Emerging Markets at the Dell Partner Business Conference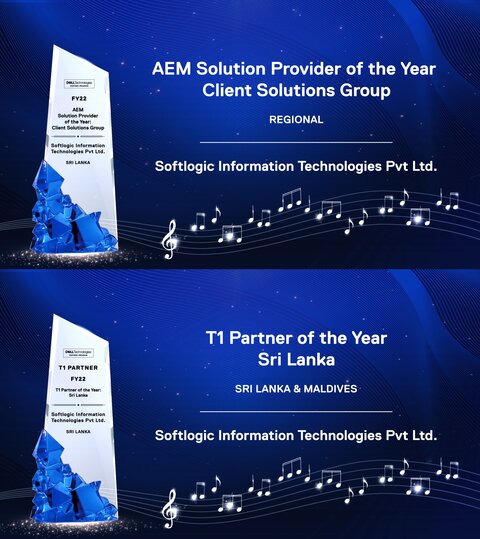 Softlogic Information Technologies (Pvt) Ltd (Softlogic IT), a leading enterprise solutions provider in Sri Lanka, recently won two prestigious awards at the Dell Technologies FY23 Partner Business Conference Asia Emerging Markets Awards ceremony. The awards won were the 'Tier 1 Partner of the Year – Sri Lanka and Maldives' as well as the 'Asia Emerging Markets Solution Provider of the Year Client Solutions Group' for FY22. These awards were bestowed upon Softlogic IT through an exhaustive screening process.
The best partner for DELL for the local and regional awards was adjudged based on customer wins, innovative market strategies, YoY business growth and the leadership position in the target markets. Over 100 companies from 14 countries were judged for the Asia Emerging Markets Solution Provider of the Year Client Solutions Group. The countries which were judged were; Sri Lanka, Pakistan, Bangladesh, Mongolia, Maldives, Nepal, Bhutan, Brunei, Timor-Leste, Fiji, Cambodia, Myanmar, Laos, and Papua New Guinea.
Commenting on these achievements, Roshan Rassool, Director/ Chief Executive Officer of Softlogic Information Technologies said 'We are extremely glad to win two awards this FY. Both these awards have significant meaning to us. One that we are the best partner for DELL in the B2B space in the country and also the best partner in the Asia Emerging Markets. Our challenges were enormous during the Covid-19 lockdowns and the economic crisis that is still prevailing. But we have managed to increase our business revenues by over 80% for DELL in comparison to last year. This is phenomenal and credit should go to the way our teams in end-user computing, enterprise business solutions, cyber security and advance infrastructure solutions have responded to the growing changes in the ICT landscape. Our goal 2 years ago was to be a leader in the Infrastructure Modernization space and we are overwhelmed that we have achieved this status in less than the period we anticipated.'
For the 'Tier 1 Partner of the Year – Sri Lanka and Maldives' Softlogic IT was judged as the top partner that provides client to enterprise solutions to its clients based on the Dell product range.
Softlogic IT was able to beat all competing companies in both categories and clinch these two awards, thanks to their proven track record of delivering top-notch solutions and services to their clients.
Commenting on the award, Sidantha Peeris – Director of Sales and Marketing at Softlogic IT stated 'We are truly honored to have received these prestigious awards. It is all thanks to our team of highly capable professionals and experts in a variety of fields. At Softlogic IT, we enable our team to put forward their best work which, in turn, helps us to give our clients the best service possible. Furthermore, we are also very grateful to all our customers for their immense trust placed on us and having us as one of their preferred ICT suppliers and for their continuous feedback, which has enabled us to come out with innovative solutions to the market. Without them, none of these could have been achieved. We are confident that these awards will help us further strengthen our service offerings and help us serve our clientele better in the future.'
In addition to a highly capable team, Softlogic IT also has a network of global partners and service providers. The combination of these allows Softlogic IT to be a world-class solution provider that is not only able to meet and exceed the requirements of its clientele but also able to create lasting value for all its stakeholders.
About Softlogic IT
Softlogic Information Technologies (Pvt) Ltd is a leading systems integrator with over 30 years of experience in the ICT industry in the region. It comprises of a team of over 200 experts who are the catalysts to provide digital transformation to local and regional companies. Backed by pre and post sales engineers, Softlogic IT provides professional services for deployment and support of a range of solutions on public /private clouds, Big data analytics, IoT, Digital identity and cyber security solutions, Digital signage and board room solutions, Software defined data centers, business continuity solutions, intelligent building management solutions, digital classroom solutions, etc. Softlogic IT services a multitude of industries and sectors including the public sector, large corporates, small and medium enterprises. More information on Softlogic IT can be found on www.softlogicit.lk
ENDS