Quickee.lk unveils 'Quickee Mansion'
An operational base inclusive of a warehouse, Call Centre, and a Vehicle fleet
Quickee.lk, Sri Lanka's favourite online marketplace, integrated with its own delivery fulfillment service, has advanced to its next phase with the unveiling of the "Quickee Mansion", a physical base of operations for this unique digital commerce platform.
The business keeps true to its promise of 'Convenience Delivered' to its customer base with the newly refurbished 'Quickee Mansion," which allows the Quickee staff to better serve its consumers.
The 'Quickee Mansion' in Colombo 3 operates with a 365-day call centre team with dedicated customer support. The Quickee Mansion also serves as the headquarters for Quickee.lk's own robust delivery fleet, which is deployed as orders are received.
The recently relaunched Quickee.lk, Sri Lanka's favourite online marketplace, the first of its kind online storefront, integrates a range of unparalleled products and services that are usually not offered by any other digital commerce platform in Sri Lanka. It has been able to maintain a robust execution capability of its brand promise by designating 'Quickee Mansion' as its physical hub, where any household across the nation is served through top delivery speeds even during late evenings and after-hours. With a new logo featuring the fastest animal on earth, the Cheetah, the reinvented Quickee.lk promises a wide array of products and services, with the fastest speed for a Sri Lankan online marketplace that delivers until 3am.
Quickee Concierge, a novel delivery service in Sri Lanka targeted at the busy working parent or individual who balance many things during the day. Quickee Concierge gives you a combination of a virtual and real shopping assistant. A Quickee.lk shopping assistant will take your shopping list, visit multiple stores on your behalf, purchase the products and will deliver them to you all in one go.
If you're planning a party with friends and family or need any urgent over-the-counter medication delivered to your doorstep, Quickee's 'Party SOS' and 'Emergency SOS' ensure that all your demands are met until late night and early mornings in Colombo and suburbs.
"The Quickee Mansion represents our physical presence in the competitive online marketplace in Sri Lanka and, more importantly, shows our dedication and accessibility to clients starting from ground level. Most online marketplaces that sell to Sri Lankan customers have no physical presence, while some have physical locations in other countries. Our service creed of 'One-Stop-Shop for All Needs' finally becomes a reality with the Quickee Mansion," says Sammy Akbar, Chief Executive Officer of Quickee.lk.
Customers can instantly download the Quickee.lk mobile app from Google Play and the Apple Appstore. They can also readily obtain our services by going to the Quickee.lk website, contacting the hotline at 0117324325, or messaging us on WhatsApp at 0777842533. Customers from overseas can also place orders for flowers, cakes, and gifts from our extensive selection of products for their loved ones in Sri Lanka by dialing U.S.A: +1 315 232 0426, Canada: + 1 289 804 0587, and UK: + 44 203 769 8734. Quickee.lk accepts a wide range of payment methods and options, including Cash on Delivery, Card on Delivery, Bank Transfers, Online Payments, and QR Payments.
Image Captions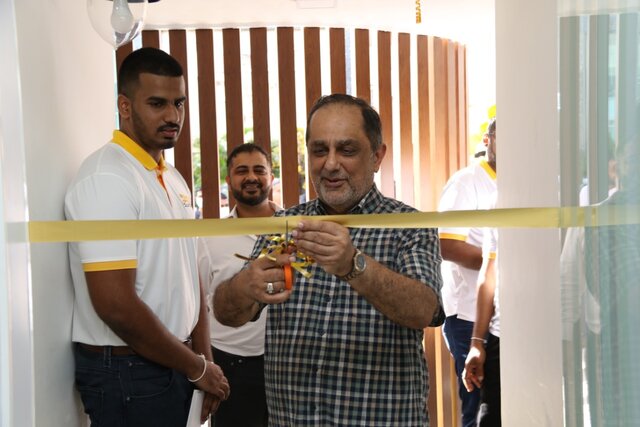 About Quickee.lk
Quickee.lk commenced operations in 2013 and is a fully owned subsidiary of Expolanka Holdings PLC. A leading operator in the convenience-led online retail and delivery economy, Quickee.lk has now been further transformed to be an innovative giant in Sri Lankan digital-commerce, ready and capable of serving Sri Lankans within the island as well as overseas.