Binance Charity Teams Up with Local Binance Angel to Feed 1,000 Families in Sri Lanka
Binance Charity, the first-ever blockchain-enabled transparent donation platform, has teamed up with a local Sri Lankan 'Binance Angel' to deliver food packages to more than 1,000 families in the country's hardest hit area. Given the recent economic crisis, Sri Lanka is facing a food shortage. The 20,000 BUSD donation went towards purchasing essentials such as rice, sugar, dry fish, dal and noodles for more than 30 villages of 3 cities in Kandy District.
"The people of Sri Lanka have endured an especially hard few years with the pandemic, hit to tourism and now this economic downturn. Ishara has redefined the meaning of being a Binance Angel by taking the initiative to run this much needed food drive. It's hard to accept people are still going hungry in 2022, when we know there's enough food on this planet to feed. We must do better at ending hunger." said Helen Hai, Executive VP of Binance and Head of Binance Charity.
The Binance Angel Program consists of a global network of active and passionate community builders with a shared goal of building a better crypto experience for all. There are approximately 300,000 active crypto users within the country. In light of the current crisis, a Sri Lankan 'Binance Angel' decided to take matters into their own hands and run a critical food drive for some of the most vulnerable communities.
Ishara Abeysinghe, Sri Lankan Binance Angel, said "As a Binance Angel, I feel responsible for building the crypto community and supporting the community that I belong to. I am glad that Binance Charity and Binance were willing to support us the angels on this initiative. This definitely was a huge step in uplifting the living standards of the Sri Lanka community that is going through a recent economic crisis."
Among the recipients of the food packages were families with young children, single mothers, pregnant women, disabled, and the elderly.
This donation is part of Binance Charity's ongoing initiative, Fight Hunger Worldwide, which also ran projects in Nigeria, Morocco and France. Up to date, more than $100,000 has been raised to help provide meals for around 20,000 people in desperate situations, many of them affected by the COVID-19 pandemic.
-ENDS-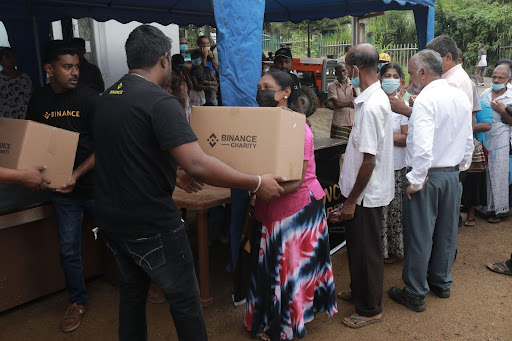 Photo Caption- "Binance Angel Ishara handing out food packs from Binance Charity to the local residents"
For more information please contact: [email protected]
About Binance Charity
Binance Charity is a non-profit organization dedicated to the advancement of blockchain-enabled philanthropy towards achieving global sustainable development. Binance Charity aims to transfer philanthropy by developing a 100% transparent donation platform based on blockchain to build a future where technology innovation is used to end all forms of poverty and inequality, advance sustainable development and ensure that no one is left behind. To date, Binance Charity has supported over 2 million end beneficiaries through various projects. For more information, visit: https://www.binance.charity/