This Festive Season Standard Chartered Partners with Soul Sounds to Present 'Moods of Christmas'
Standard Chartered Sri Lanka has collaborated with the Soul Sounds Academy for a third straight year to bring in the festive cheer through an evening of customary Christmas Carols, together with Cinnamon Grand Colombo.
Soul Sounds, the well-known all-female choral group, directed by a veteran vocal coach Soundarie David Rodrigo will present the 18th edition of 'Moods of Christmas', taking centre stage on the 21st of December from 7.00 pm onwards at Cinnamon Grand Colombo's Atrium.
Head of Consumer, Private & Business Banking for Standard Chartered Sri Lanka, Aroshana Fernando, commenting on the partnership said, "We are thrilled to be partnering with Soul Sounds for the third year straight to present 'Moods of Christmas. Christmas is a season of joy and good tidings, and Soul Sounds, through their repertoire of seasonal favourites, captures the essence of Christmas ideally in song. Standard Chartered has always given back to its valued clientele, and this recurring effort marks our promise to offer the best Christmas encounter to all our clients. We wish all of them a festive season full of blessings, and a new year of hope and abundance."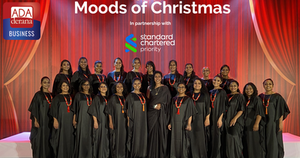 'Moods of Christmas' will be an evening packed with graceful musical notes and tranquillity as the distinctive arrangements of the voices of Soul Sounds will not only add Christmas cheer but also bring in a feeling of hope for the upcoming New Year. With the Choir changing their repertoire every year with various musical arrangements the audience can look forward to a really excellent festive performance.
Anuk De Silva, Head of Corporate Affairs, Brand & Marketing for Standard Chartered Sri Lanka added, "During this season of hope, we have stayed true to our values and brand promise of being 'here for good' by bringing people together to embrace the most wonderful time of the year. Standard Chartered Sri Lanka has always looked towards bettering the lifestyles of our distinguished clients and the communities in which we operate, and this highly expected concert is yet another initiative which contributes to this objective. As we look ahead to a bright 2023, Standard Chartered will continue to keep its promise to Sri Lanka."
Rated among the most famous choirs in the world, Soul Sounds have captivated audiences at home and abroad with their ability to reach the souls of their audience with their beautiful passionate performances. The leading all-female group has since established themselves as real musical ambassadors of the country. Soul Sounds continuously improves its standards while reaching out globally to appeal to its expanding fan base, with the goal of displaying Sri Lankan talent to the world.