Huawei AI life scenario paves way for a more connected world
Huawei, the global smartphone brand drives change by bringing connectivity to the fore in its latest tech solutions in a pioneering concept called Huawei AI life scenario. By combining the benefits and features of multiple devices, Huawei enables users to enjoy an enhanced experience having them connected under one eco-system with smartphone as the central device.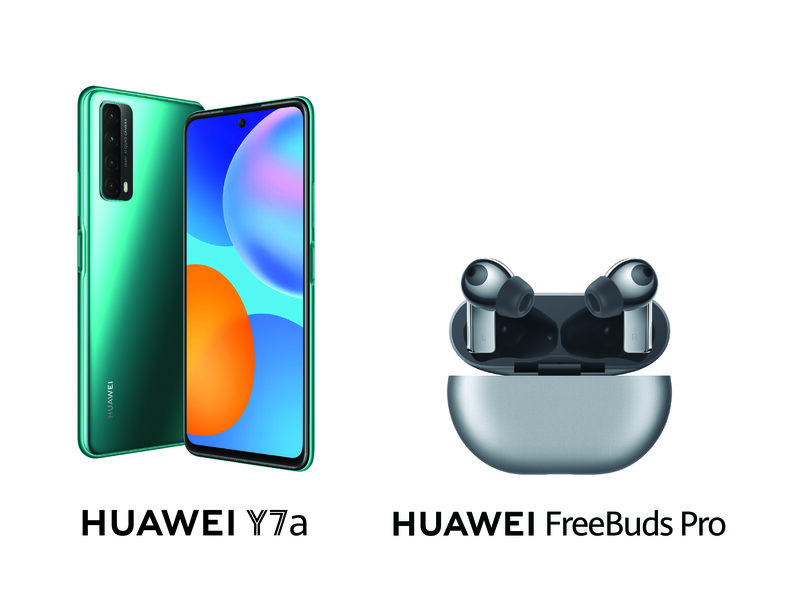 Today, connectivity is of utmost importance to enhance productivity of digital natives with the hectic schedules and both men and women committing to day jobs. From smartphones to laptops, tablets, wearables, true wireless earbuds and moving towards new age super powerful home controlling systems, Huawei now connects them all bringing access to the fingertips of the user.
Understanding the importance of connectivity for a proper work life balance, Huawei continues to leverage in its AI life scenario concept and create a smarter and intuitive space for the user. The surge in working from home and e-learning have demanded connectivity more than ever and seamless integration of multiple devices have proved to be highly effective.
The recently launched Huawei Y7a is no different in terms of connectivity and its high popularity has urged many tech enthusiasts to explore its key specifications.
Made to match the contemporary designs with a 6.67 inches larger screen, Huawei Y7a has become yet another mid-range favorite ever since its launch. The bigger screen and Full HD+ 2400×1080 resolution bring an immersive viewing experience for those who revel in streaming videos and playing games on a high quality screen.
Every smartphone user expects a better camera as smartphone photography has become the norm of the day. Huawei Y7a packs a Quad camera set up which is AI powered. It features a 48MP High-resolution main camera, 8MP Ultra wide-angle lens, 2MP Depth lens and 2MP Macro camera. The camera combination produces stunning photos and videos irrespective of day or night backed by its AI capabilities.
Huawei Y7a is powered by a Kirin 710 chip and a 4GB RAM that combines to bring a super-fast performance, which is ideal for gaming, streaming videos and surfing internet. The user no longer needs to worry of the storage as Huawei Y7a has an inbuilt 128GB storage to store ample photos, video, apps, games and files. Another highly useful feature is its 5000mAh bigger battery, which lasts for a couple of days even with continuous usage. Y7a also accommodates a side mounted finger print reader, which is highly convenient, and a rarity in today's smartphones.
While Huawei Y7a is built for entertainment, a pair of true wireless ear buds further add to its capabilities. Huawei FreeBuds Pro is the latest true wireless ear buds from Huawei that comes with a redefined Active Noise Cancellation feature (ANC). Whether you are in a crowded city, work place, or traveling, the new ANC feature ensures that background voice is blocked to provide a true music or call experience.
Its new Hybrid Call Noise Cancellation combined with a 3-mic system and the Bone voice sensor work in conjunction to reduce background noises and enhance human voices for a better calling experience. With its dual antenna design, FreeBuds Pro provides a stable connection allowing the user to keep the smartphone in pocket/bag or any other convenient place.
Huawei FreeBuds Pro also supports dual device connection, which enables the user to switch from watching a movie from the tablet to receive a call from the smartphone with just a pinch on either sides of the buds.
Its innovative touch control system allows the user to control music and calls at his/her fingerprints. Smart touch control features such as long press for ANC/Awareness mode, Swipe up for Volume (+), Swipe down for Volume (-), pinch once for play/pause music and answer/end calls, Pinch twice for next song and pinch thrice for previous song, are available alongside highly sensitive touch capabilities.
Huawei Y7a and Huawei FreeBuds Pro combination remains formidable with quality, specifications, outstanding performance and on top of that bridging the barriers for entertainment. Huawei Y7a is priced at Rs. 35999 while Huawei FreeBuds Pro is available to purchase at Rs. 34999 from all Huawei experience centers, island wide Singer showrooms and can be ordered online via Daraz.lk and Singer.lk.