Living our purpose: Fems Aya to normalize conversation on menstrual health and hygiene with Sanitary Napkin distribution within Hemas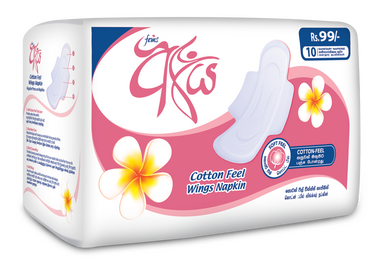 The leading feminine hygiene brand Fems embarked on a new journey with two distinctive objectives; educate women on menstrual health and hygiene practices and introduce an affordable sanitary napkin to the market.
While the brand's efforts were reaping better than expected results, Hemas being a progressive corporate leader decided to live the purpose within the organization by implementing an in-house free distribution campaign to offer Fems Aya sanitary napkins to its entire staff. Hemas made sure to include the men in their workforce to further push the normalization of the conversation among their personal circles as well as professional settings. While the product itself played the role of delivering access to affordable and high-quality menstrual hygiene products, the drive encouraged all team members to be involved in the all-important discourse on menstrual health and hygiene. Lack of knowledge on menstrual health and hygiene and the social stigma attached to periods hold back most people from talking about these topics openly.
Fems Aya initiative was joined by several like-minded organizations including the MJF Foundation, the ARKA initiative, Sarvodaya Women's movement and Sarvodaya Fusion whose unwavering passion to create awareness on menstrual health and hygiene saw this initiative reaching a considerable number of women across the country.
Awareness building and breaking down myths on menstrual health and hygiene is a need of the hour, according to a Kantar LMRB household research conducted the majority of menstruating women are non-users of sanitary napkins due to several reasons as stated above and affordability. Fems, riding on the affordability concern introduced a low-cost Sanitary napkin without compromising on quality and standards. Fems Aya is a winged napkin with a cotton feel that promises all-day comfort and maximum protection. This product, which is of the same quality as higher-priced napkins and manufactured in line with the necessary safety standards, revolutionizes the hygiene care industry.
Fems Aya is currently available at the Hemas E-stores https://hemasestore.com/brand/fems/
and can also be purchased from retail and modern retail stores.
Hemas believes that irrespective of gender, everyone should be able to talk about menstrual health and hygiene openly while menstrual education needs to be a part of society, which in turn will end the stigma surrounding menstrual health. In this regard, men can play a big role by taking the message across society and normalising this conversation that menstruation is the most natural cycle that every woman experience, so that the entire society could support this discourse.
About Hemas Consumer
Hemas Consumer Brands is the largest Sri Lankan entity in the Home and Personal Care sector in the nation. With over 70 years of rich heritage, the company has won consumer hearts through strong purpose-led brands and progressive sustainability practices. It strives to bring healthful living and personal care solutions to life through its portfolio of world-class products and have garnered acclaim for the creation of superior products by uncovering local insights backed by growth-inspired innovative teams.
Strengthened by several leading brands, Hemas Consumer Brands continues to innovate and touch lives through its efforts in a number of cause-based projects such as the Aya Feminine Hygiene initiative, the Kumarika Sonduru Diriyawanthi wig donation project for cancer patients and Baby Cheramy's progressive inclusive parenting initiative. Hemas Consumer Brands' design thinking brings revolutionary products such as Vivya heirloom rice-based skin range, the Dandex Handy and Kumarika Poddi shampoo ranges to replace single use sachets portraying brand's commitment towards a green nation. The company also leads on several fronts to contribute towards a more sustainable and inclusive future for all Sri Lankans.