Catering to the growing demand for washing powder, Diva launches all new 700g pack
Top variants of Diva Fresh, including the Rose & Lime variant were recently launched in a 700g pack giving its consumers a wide range of products which best suits their household needs. With a rich history of providing superior laundry care solutions, Diva has always understood the pulse of its local consumers, thereby providing high quality value for money products to cater to the growing need and demand of the Sri Lankan households.
Diva selected its top two variants from the Diva Fresh family, which are the most sought-after fragrances amongst its consumers for this launch. As a truly Sri Lankan brand and understanding the need of the hour, Diva responded by offering a 700g pack to the market to cater to the varying needs of the consumer.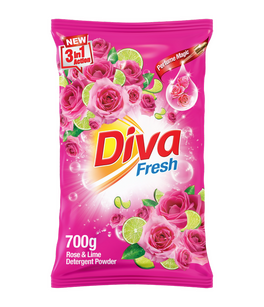 As washing powder plays a huge role in households across the island, Diva wanted to create a
700g pack where consumers are provided with a variety of options that best suit their laundry needs. This offering will help consumers make better purchasing decisions given the current economic challenges faced today.
Diva Fresh comes with a 3-in-1 action infused with Perfume Magic, which provides superior fragrance, while the Fibre Clean Technology and Optical Brighteners offer greater cleaning and brightness to the clothes. It is the smart choice of the modern household, easing the busy life to care for the wellbeing of the family.
The Diva Fresh 700g pack in Rose & Lime, and Purple Lotus, Lavender, & Lime are available island-wide across all channels and can also be purchased online at the Hemas E-store (https://hemasestore.com/brand/diva/).
End
About Hemas Consumer
Hemas Consumer Brands, the leading Sri Lankan manufacturer of Home and Personal Care products, has won consumer hearts over the years through strong purpose-led brands and progressive sustainability practices. Hemas Consumer Brands strive to bring healthful living and personal care solutions to life through its portfolio of world-class products. They have garnered acclaim for creating superior Market-leading and Award-winning products by uncovering local insights which are nourished by growth-inspired innovative teams. They touch the lives of the communities around the island by creating meaningful offerings, cultivating trusted partnerships, and championing a more environmentally friendly inclusive world.