CLC Islamic Finance tops first five-year stint with a gold rush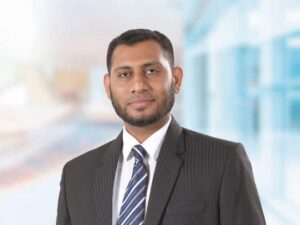 CLC Islamic Finance of Commercial Leasing & Finance PLC (CLC) is a leading Islamic Finance entity in Sri Lanka that is now propelling to greater recognition within the South Asian Islamic financing arena as well. Launched in 2015 under the Islamic Business Division (IBD) of CLC as an Islamic Finance Window under regulations of Central Bank of Sri Lanka (CBSL), CLC Islamic Finance offers unmatched financial services to customers of all walks of life.
CLC Islamic Finance meets the due requirements of compliance through a three member Shari'ah Supervisory board along with dedicated in-house Shari'ah advisors comprising of renowned local and international scholars.
The stellar growth of CLC Islamic Finance in the past five years is reflected by a multitude of achievements -namely, a series of top of the line awards that elevated its profile in South Asia, product offerings with unmatched returns that surpass even the minimum payout rates required by the Central Bank, a growing assets base, innovative automated service offerings across an island-wide service network, and an open invitation to all citizens – both Islamic and non-Islamic-to avail of its profitable services.
A series of top-of-the-line accolades won by CLC Islamic Finance within a short time-span vouches for its growing reputation, strength in compliance and unmatched customer focus. CLC Islamic Finance won continuous awards at the Islamic Finance Forum of South Asia (IFFSA- the only annual gathering of Islamic Banking practitioners in South Asia). The awards include "Best Islamic Leasing Company in Sri Lanka and South Asia" which CLC Islamic Finance has been winning since 2016 to present. CLC Islamic Finance also won the "Emerging Islamic Finance Entity of the Year" at the 2016 Sri Lanka Islamic Banking and Finance Industry (SLIBFI) Awards. The crowning achievement in its winning streak came in 2018 at the IFFSA Awards when CLC Islamic Finance were crowned with three gold awards, namely, "Islamic Finance Entity of the Year", "Best Islamic Leasing Company of the year" and "Best Islamic Finance Window of the year".
What is important is that CLC Islamic Finance offers the highest profit share in the industry. Ilsam Awfer, Head of CLC Islamic Finance shares his thoughts:"We offer the maximum permissible profit share rate for regulated Finance Companies on Deposits to our valued investors on Mudharabah and Wakala Investments which is also the highest in the industry. The Business Unit's Asset base now stands above Rs. 4 billion and Liabilities at Rs. 2 billion. Such high returns to the investors are due to our profitable and safe business model." As part of this safe business model, CLC Islamic Finance offers many innovative products. In 2019, CLC Islamic Finance introduced the industry's first Mudharabah Growth Savings Account. In addition to Mudharabah and Wakala Investment which is known as Profit Sharing Investments, the Business Unit also offer Ijarah Leasing, Diminishing Musharaka Finance, Murabaha – Trade Finance, Wakala Working Capital Finance and Musawamah Import Finance in terms of advances.
The remarkable year-on-year portfolio growth of CLC Islamic Finance shows that these comprehensive offerings have garnered the attention of a very judicious customer base. Ilsam Awfer adds: "Our strength also lies in CLC's 30 long years of experience in the industry that spurred us towards innovative finance solutions driven by our passion to ensure Shari'ah compliancy in all transactions."
CLC Islamic Finance has an island-wide presence with more than 65 branches and accommodates over 500 free access ATMs. It has established dedicated Islamic Finance Service Centers at Akkaraipaththu, Kinniya, Muthur, Oddamavady and Katuwanwila with plans to extend to other regions during the current financial year. To enhance consumer awareness, CLC Islamic Finance launched the "Handbook of Islamic Finance" in 2018. With its digital approach, it also provides online banking facilities to perform fund transfers, standing orders, utility bill payments so that its customers can enjoy online banking at their fingertips.
CLC Islamic Finance (clc.lk/clc-islamic-finance) commenced operations in 2015 and in a short span of five-years, has become a dominant force to recon with in the Islamic Banking and Finance Industry due to many factors- foremost of which is its uncompromising customer centricity.
Photo Caption
Commercial Leasing & Finance PLC Head of Islamic Business Division, Ilsam Awfer