Findit.lk seals a key award at SLIM DIGIS 2.0
Findit.lk, a leading promotion and business directory website in Sri Lanka has emerged victorious at SLIM DIGIS 2.0 held on 21st January 2021 at the Sirimavo Bandaranaike International Memorial hall.
Findit.lk clinched Silver award for the Best SEO Campaign "Lead generation website".
SLIM DIGIS 2.0 organized by the Sri Lanka Institute of Marketing (SLIM) since its inauguration in 2018 has been a driving force behind recognizing exceptional digital marketing campaigns in the industry.
Findit.lk is Sri Lanka's largest online hub for promotions, offers, discounts, and more. This Popular website is for Sri Lankans of all ages who love to find ways to save their money and time. It is also a hot-spot for advertising promotions, discounts, offers, job vacancies and more from the largest conglomerates to the micro-enterprises as the audience around the website is precisely people who are in search of such promotions.
Findit.lk is also the proud owner of Sri Lanka's first innovative business feed where anyone can browse through daily promotions and offers in Sri Lanka. Even a non-resident Sri Lankan or even a foreigner can use this website to view daily promotions in the Sri Lankan business community, thus creating an instant international business portal.
"We are specifically focused on helping Sri Lankan people to save their money and time and on the other hand, we have established a definitive platform for Sri Lankan Marketers to promote businesses to relevant crowds. Our hyper-focus on our goals and defined-set of objectives led us towards this success. The dedication and innovative approach of our employees were the basic factors in this scenario. We collectively believe that identifying the precise target audience and approaching them through novel and creative ways and implementing right strategies with right tools is what makes us different." COO of Findit.lk, Vimashi Mendis expressed her thoughts on the win.
"We are proud and grateful that this award is from such a prestigious national institution. Standing together and being able to mingle with Sri Lankan Digital Marketing celebrities on the awards night was a surreal experience. I was filled with pride and felt so privileged to be a part of such a prestigious and phenomenal community."
"On behalf of our team at Findit.lk, I would like to thank SLIM for recognizing our efforts in the industry and I strongly believe that Findit.lk is and will be a huge impact on the Sri Lankan market and the lives of Sri Lankan people. Our Mission is to create a positive impact in the lives of people by becoming the first-choice promotions advertising platform." she further added.
ENDS
Photo Caption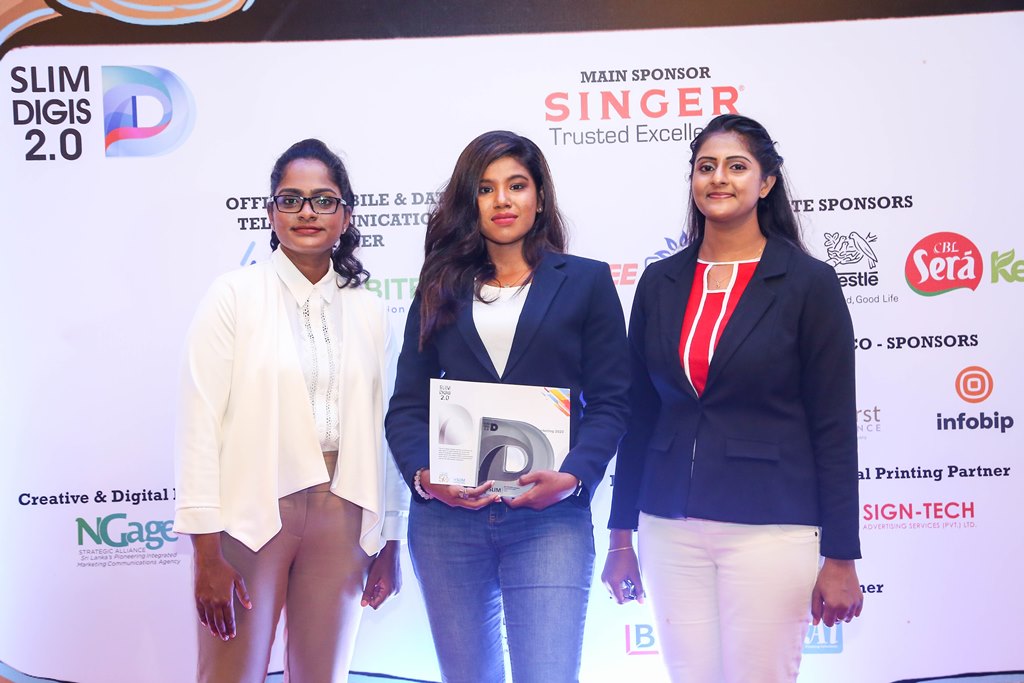 1. From Left: Findit.lk Digital Marketing Specialist / Business Analyst Amanda Sandamini, Chief Operations Officer Vimashi Mendis and Marketing Executive Sithu Nimeshika
2.Findit.lk Digital Marketing Specialist / Business Analyst Amanda Sandamini, Marketing Executive Sithu Nimeshika and Chief Operations Officer Vimashi Mendis being presented with the award by Nuwan Rathnakirthi, Marketing Manager, CBL Foods Cluster