'SheLeads' is back with its Second Edition to Empower Business Women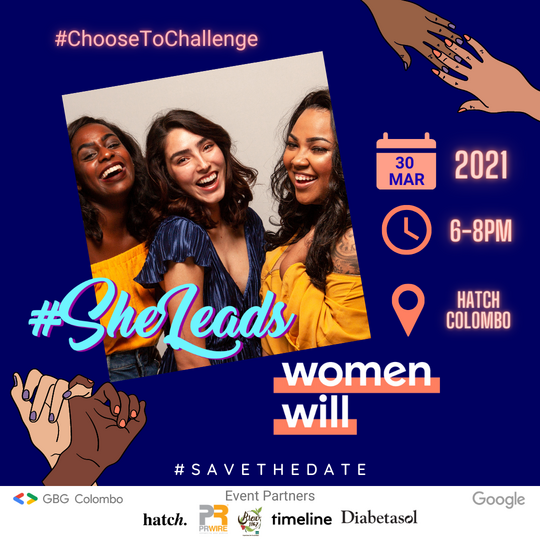 'SheLeads', the annual event in line with International Women's Day, launched by Google's Women Will community in Sri Lanka, hosted together with Hatch Works, will be held on Tuesday, 30th March 2021 at Hatch Works, No. 14 Sir Baron Jayatilaka Mawatha, Colombo from 6.00pm onwards.
Google Business Community – Sri Lanka (GBG Colombo) launched the Google's Women Will program in Sri Lanka, in 2018, to help make a difference in bridging the gender gap and empowering women in Sri Lanka, by focusing their resources, time and technology. SheLeads was then launched in 2019 as an annual event which aims at providing expertise, resources, action steps and relationships to catapult women to launch businesses, grow and expand existing businesses and lead in all aspects of their lives.
Although 2020's event was unfortunately canceled due to the outbreak of the pandemic, this year it is back to address and explore solutions for the challenges faced by women due to the current times.
This free event is open to women from all industries, either working professionals or female entrepreneurs and business owners. Its focus is to empower women in Sri Lanka to take ownership of their initiatives and to thrive in the business world. It is aimed at creating equal opportunities for women in the workplace by giving them the resources, skills, and the knowledge needed to be competitive not just locally, but globally.
The theme for the second edition of the program aligns with the theme for this year's International Women's Day – "Choose to Challenge", and the event will be graced by industry experts and includes an unconference to address the topics closer to the hearts of the participants.
"After the successful launch of Google's International Women Will program in Sri Lanka in 2018, we have run multiple workshops and training events, mainly in Leadership and Entrepreneurship for women business owners and working professionals, for the past three years. We aim to bring together women entrepreneurs, to develop and support programs to help them build skills, get inspired, and connect with each other", commented Indu Nanayakkara, the Country Lead for Women Will in Sri Lanka.
Through this annual event, Women Will aims to achieve its mission for this year of celebrating all women entrepreneurs across the globe, supporting women to choose to challenge the norms surrounding entrepreneurship, leadership and the role women play in the boardroom.
This year's event is powered by Hatch as the official Venue partner, Brew 1867 by Dilmah as the official Food & Beverage partner, PR Wire, a leading Public Relations Consultancy in Sri Lanka as the official PR partner, Timeline as the official Digital Media and Photography partner and Diabetasol as the Health partner.
The interested attendees can register online and attend, upon email confirmation from the organizers as this is a limited seating event. Details and updates on the event can be found on the official GBG Colombo Facebook page www.facebook.com/gbgsrilanka and may email on [email protected] for more information.