HONDA NAMED 'MOST-LOVED AUTOMOBILE BRAND IN SRI LANKA' BY BRAND FINANCE AND LMD
As with every other industry, the COVID-19 pandemic has had a drastic impact on the globally integrated automotive industry and even more so, on the Sri Lankan automobile market due to the restrictions on vehicles, motorcycles and scooter imports. Sri Lanka's ban on vehicle imports came into effect in March 2020 – as a measure to reduce the demand for foreign exchange – and is expected to continue for another two years.
As a result, most players in the local automobile industry have lost up to 60 percent of their revenues and are struggling to cover costs. Against this backdrop, automobile companies such as Stafford Motor Company have stood their ground and shifted the focus towards aftersales – launching new products and services for the upkeep of vehicles in the market.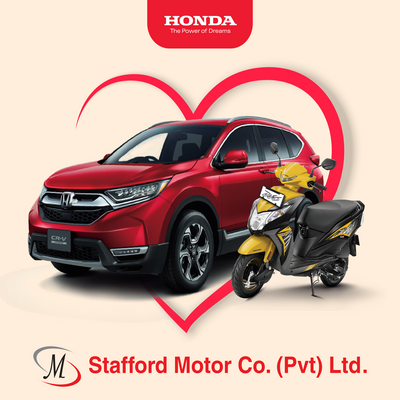 Stafford Motor Company – the sole authorised distributor for Honda in Sri Lanka, recently launched a range of services under its aftersales brand 'Honda Care' which includes Condition checks for Honda vehicles, special packages to upgrade a current Honda, complete paint jobs at special rates, A Honda Recovery service etc. which caters to the current needs of its customers while generating new revenue lines for the company. Additionally, Honda Certified two wheelers and four wheelers were launched by refurbishing used vehicles with genuine spares, thus providing prospective and loyal Honda customers the opportunity to purchase certified high-quality Honda vehicles.
"Customer satisfaction is of paramount importance to us and aftersales service plays a significant role in this regard. As a company, we continued to forge ahead amidst the pandemic and despite several restrictions, serving our customers through thick and thin. And given the current circumstances, we remain highly committed to ensuring maximum safety for anyone wanting to service their vehicles.
The safety of our customers is what matters the most; and the precautions that we take as a brand that truly values their safety reassures our customers and furthers their confidence in us," states Dr. Kalinga Kaluperuma, Managing Director/CEO of Stafford MotorCompany, while adding: "We continue to maintain our relevance to customers by offering specialised services under 'Honda Care'. Furthermore, prospective buyers can bring their motorcycles or cars to our workshop to be assessed before purchase, and we also offer repairs with certified genuine Honda parts."
In another recent initiative, Stafford Motors tied up with ProRide to launch the 'ProRide Safety Riding Academy' – an innovative educational venture that trains riders in safety riding as per Honda safety riding manuals, so as to make the roads safer for everyone while instilling the importance of responsible riding in the minds of all riders.
Stafford Motors' & Honda's resilience and versatility in the face of adversity has been truly remarkable over the past months, and the company attributes this noteworthy performance to its dynamic and dedicated workforce. The transition from on-the-ground engagement to a more digital and ATL communication-based approach has helped Honda sustain its brand visibility since the outbreak of the pandemic.
In this context, the company recognises and commits to the rising importance of digitally transforming its sales and after-sales services to provide a seamless, safe and comfortable luxury experience throughout the customer journey. As a market leader, Honda continues to trailblaze the auto industry, reinforcing its position as the most loved brand in the hearts of its consumers. Its recent recognition by Brand Finance and LMD as 'Most-Loved Automobile Brand in Sri Lanka 'stands testament to this!
Today, the demand for vehicles remains strong in Sri Lanka despite the pandemic, especially because people prefer to use their personal transport rather than risk using public transport. In light of this and in the spirit of upholding its 2030 vision – 'to lead the advancement of mobility and enable people all over the world to improve their daily lives' – Honda continues to inspire trust in the brand as it assures its undying dedication and commitment to serving customers every step of the way.
###