Sri Lankan heirloom rice-based world's first skincare range Vivya ready to go global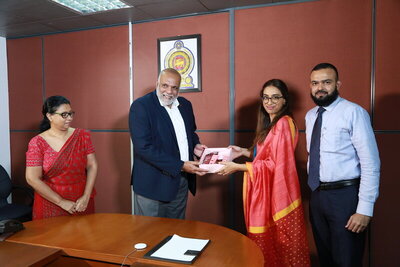 Vivya, the first ever Sri Lankan heirloom rice infused skin care solutions range, is poised to enter in the South Asian market-and beyond.
Developed entirely within Sri Lanka, Vivya is a breakthrough innovation of Hemas Consumer Brands- a leading manufacturer in Sri Lanka's home and personal care sector. The Vivya range is a unique –if not an altogether revolutionary- cosmeceutical solution as Vivya is the world's first skin-care range based on powerful ingredients of Sri Lankan heirloom rice that creates the coveted youthful radiance in women's skin.
The Vivya range consists of Day Cream, Facial serum, Face Wash, Night Cream and a Cleanser. The entire product range is infused with the highly moisturizing, nourishing and brightening properties carefully derived from nature from Sri Lankan heirloom rice. These extractions from select Sri Lankan rice varieties are thereafter fortified through a unique technological process that results in the potent "Golden Trice Blend" found in Vivya.
The Vivya range has already won the hearts of skin care solution seekers in Maldives and United Arab Emirates. Vivya's arrival in global market is the latest addition to the cosmetics product basket of Sri Lanka's export sector. Suresh de Mel, Chairman of Sri Lanka Export Development Board said: "We are excited about the newest venture of Hemas Consumer; Modern day skincare solutions inspired by Sri Lankan heritage ingredients are now available to global skincare markets. Such innovative products take our tiny island to the heart of global skin care market. EDB wishes this Sri Lankan team of skin care trailblazers the best of luck."
There are more than 1500 varieties of heirloom rice in Sri Lanka and many of them have been renowned not only for their higher nutritional properties but also for their antioxidant powers that generate the coveted youthful radiance in the skin. These heirloom rice elements which are now infused in Vivya, powers the care product range to revive the dull and tired skin to be restored to its pristine youthful radiance.
Sabrina Esufally, Director – Business Development & Innovation of Hemas Consumer Brands said: "Sri Lankan women have few choices for their full breadth of skin care needs as over 90% of the products in the market are aimed at skin lightening. The Vivya range by Hemas Consumer Brands changes this routine outlook. Vivya actively works on maintaining the beauty and diversity of the skins of women regardless of their age, skin color or pigmentation. What is important is that the power of valuable skin care elements extracted from Sri Lankan heirloom rice is not known globally-until Vivya presented it. The blend of select ingredients from three varieties of ancient Sri Lankan heirloom rice results in the unique "Golden Trice Blend" that is found in Vivya."
Consumers who tested the market-ready Vivya range reported that it showed visible improvements. During clinical tests, Vivya showed visible changes to key elements of skin's radiance –the moisture level, brightness and texture -in a matter of two weeks.
Vivya is currently available at the Hemas E-stores https://hemasestore.com/brand/vivya and can also be purchased from select shopping points such as fancy stores, cosmetic vendors, grocery stores, pharmacies and leading supermarket chains,
Photo Caption
(L- R) – Chitranjali Dissanayake – The Director General – Export Development Board, Suresh De Mel – Chairman Sri Lanka Export Development Board, Sabrina Esufally, Director – Business Development & Innovation of Hemas Consumer Brands & Mohamed Shafraz -Head of International Business of Hemas consumer brands
About Hemas Consumer Brands
Hemas Consumer Brands is the largest Sri Lankan entity in the Home and Personal Care sector in the nation. With over 70 years of rich heritage, the company has won consumer hearts through strong purpose-led brands and progressive sustainability practices. It strives to bring healthful living and personal care solutions to life through its portfolio of world-class products and have garnered acclaim for the creation of superior products by uncovering local insights backed by growth-inspired innovative teams.
Strengthened by several leading brands, Hemas Consumer Brands continues to innovate and touch lives through its efforts in a number of cause-based projects such as the Aya Feminine Hygiene initiative, the Kumarika Sonduru Diriyawanthi wig donation project for cancer patients and Baby Cheramy's progressive inclusive parenting initiative. Hemas Consumer Brands' design thinking brings revolutionary products such as Vivya heirloom rice-based skin range, the Dandex Handy and Kumarika Poddi shampoo ranges to replace single use sachets portraying brand's commitment towards a green nation. The company also leads on several fronts to contribute towards a more sustainable and inclusive future for all Sri Lankans.
#ENDS#