Alliance Finance expands its sustainability drive through island wide branches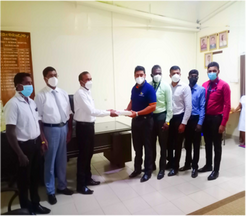 Alliance Finance Co. PLC, (AFC), Sri Lanka's oldest finance company with over 65 years of expertise in offering affordable and inclusive sustainable finance solutions to empower the nation. AFC has taken a step forward to expand its sustainability drive through its island wide branch network, launching AFC branch sustainability programme, known as the "AFC helping hand" with an aim to help uplift the lives of Sri Lankans and lend a helping hand to the fight against the pandemic. This initiative has several competed projects to date and over 30 project implementations are in progress, despite the challenges from the Covid-19.
The branch network following in the footsteps of AFC, have embraced the opportunity to serve the communities in their respective regions. AFC donated a vast array of medical equipment to hospitals, lending a hand towards the ongoing battle against COVID-19 including formal reliefs to affected clients & staff. To date the company has supported hospitals in Northern, Uva, Eastern, Southern, Western, Sabaragamuwa and North Western Provinces and many projects are progressing in other provinces as well.
Commenting on the AFC helping hand programme, Deputy Chairman and Managing Director Mr. Romani de Silva said, "It is with great enthusiasm we embark on these projects to support our own communities. All of the AFC's branches have rallied behind this programme to fulfil the most pressing needs of their respective locations. We are in the midst of a highly challenging period with the pandemic. As a socially responsible corporate, we prioritized in helping the health care sector at this moment. We will continue to expand our Helping hand programme around the country through AFC branches and act as a key player in sustainable initiatives."
AFC has been at the forefront of community support initiatives since its inception in 1956. During the last decade, AFC has developed a business model while integrating the core principles of sustainability into the business to ensure focused sustainable value creation to support national and global sustainable priorities. Over the years, AFC has focused on sustainable investments for many social and environmental wellbeing programs in partnership with like-minded stakeholders. AFC makes an investment of 3-4% annually from the total profit towards social and environmental wellbeing initiatives.
The main environmental program of AFC is the "Thuru Mithuru" program launched in 2018. Under this initiative in 2019, the Company launched its flagship project "One million tress for Unity. This project aims to plant 1 million trees by 2024 to create a greener Sri Lanka. To date over 300,000 seedlings have planted across the island through this initiative.
Supporting social entrepreneur development, bio diversity conservation and eco system restoration, clean energy and zero emission initiatives are some of the other sustainability priorities of the Company. Together these initiatives line up to contribute towards sustainable development in alignment with UN SGDs.
About Alliance Finance PLC
Alliance Finance Co. PLC is the oldest finance company in Sri Lanka with over 60 years of a legacy, serving its loyal customers, supporting financial inclusion and sustainability. It is the first company in South Asia to become a certified financial institution in holistic sustainability, under the pioneering Sustainability Standards and Certification Initiative (SSCI). SSCI is the first measurable and certifiable sustainability standards developed in Germany by the International Council of Sustainability Standards for Value-Driven Financial Institutions. AFC has a shared vision to foster growth and prosperity of its customers while building trust and long-lasting relationships with them. Environmental and sustainability initiatives are at the centre of AFC's sustainability agenda, which embodies the company's drive towards "making the world a better place through sustainable finance".