DIMO Marine Solutions caters to local fisheries sector with all-new marine workshop in Dikkowita
DIMO, a leading diversified conglomerate in Sri Lanka, through its Marine Engineering arm DIMO Marine Solutions, has now expanded its services for the local fisheries sector by establishing a state-of the-art marine workshop at the Ceylon Fisheries Harbour Corporation Dikkowita North Terminal (CFHC). The marine workshop was declared open by Mr. Gahanath Pandithage, Group CEO of DIMO.
Mr. Vijitha Bandara, Executive Director at DIMO, who also oversees the Marine Engineering business of DIMO, said, "Developing Sri Lanka's marine engineering sector will enable us to explore different avenues in fisheries, leisure and shipping industries while paving the way for fuelling the dreams and aspirations of the communities in these sectors. DIMO Marine Solutions caters to global players in the leisure sector such as Four Seasons Explorer and Cheval Blanc Randheli, through servicing and repairing of luxury yachts. Additionally, it also caters to the shipping industry through companies such as Sri Lanka Shipping, and facilitates institutions including the Sri Lanka Navy. With this new facility in Dikkowita, we are confident that we can immensely contribute to the development of the fisheries sector in the country."
DIMO launched this facility to expand its contribution to the development of the local fisheries sector, and with the aim of catering to the local one-day and multi-day fishing boats as well as foreign fishing vessels. While undertaking engine related repairs, engine overhauling, machining, and repairs of all types of pumps, injectors, and radiators, the services offered by the new marine workshop will also extend to the repair of coolers, heaters, heat exchangers, condensers, and electrical & hydrochloric gear boxes.
DIMO has forged a multitude of partnerships with internationally reputed brands including MTU which spans over 37 years, Detroit Diesel, MG Duff and ROCHEM. DIMO represents these brands across both Sri Lanka and the Maldives. These international partnerships have assisted the company in gaining international exposure, which has played an integral part in the evolution in DIMO's marine engineering expertise. DIMO is the only entity in Sri Lanka that has been awarded with ISO 9001:14000 and the AERA USA certification for engine overhauling.
The facility in Dikkowita is equipped with NVQ level 4 qualified expert technicians, guaranteeing a high-quality service at all times. DIMO's marine workshop in Dikkowita will be backed by the company's engineering excellence and DIMO outlets in coastal locations, providing unparalleled convenience for customers.
The workshop will undertake the servicing of communication systems of boats, motor rewinding, servicing, varnishing, and baking of all types of engines. It also has the capacity to service ships of up to 80 feet in length. DIMO has carefully selected Dikkowita as the location for this marine workshop as such was identified as a strategic location in terms of the logistics of offering one day service for boats and vessels.
DIMO works closely with the CFHC to facilitate the local fisheries sector with latest engineering solutions. The marine workshop is a result of such initiatives, and the company looks forward to implementing similar projects in the future with the assistance of the CFHC, and further developing the industry.
DIMO Marine Solutions offers a wide range of cost-effective and customised solutions, including Engineering, Design, Project Management, Installation, Commissioning, Maintenance and is also equipped with a flying squad to attend overseas repairs.
END
Image Caption: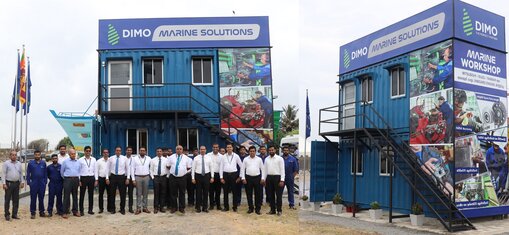 Representatives of DIMO's management team and staff at the marine workshop in Dikkowita
About DIMO
Diesel & Motor Engineering PLC (DIMO) is involved in a number of related fields and represents many prestigious principals – Mercedes-Benz, Siemens, Jeep, KSB, TATA Motors, MTU, Komatsu, Michelin, Zeiss, MRF, Bomag, Claas, TK Elevator, Mahindra Tractors and Stanley to name a few. From a company known for vehicles, DIMO today has diversified into many areas. Medical Engineering, Building Management Systems and Services, Power Generation and Distribution, Material Handling, Storage and Warehouse solutions, Power Tools, Agricultural Equipment, Total Lighting Solutions, Power systems and Generators, Refrigeration, Ship Repairing and Driver Training Courses are some of the areas into which DIMO has entered during the past few decades. DIMO has also diversified into fertilizer and agriculture input market. DIMO successfully entered into overseas markets in the Maldives and Myanmar, by expanding their Marine and General Engineering services through partnerships in the Maldives and their automobiles and automobile servicing segments into Myanmar. DIMO is currently working to consolidate on current overseas operations with new markets in East Africa.