Pelwatte Non Fat Milk offers far healthier and wholesome version of dairy for Sri Lankan consumers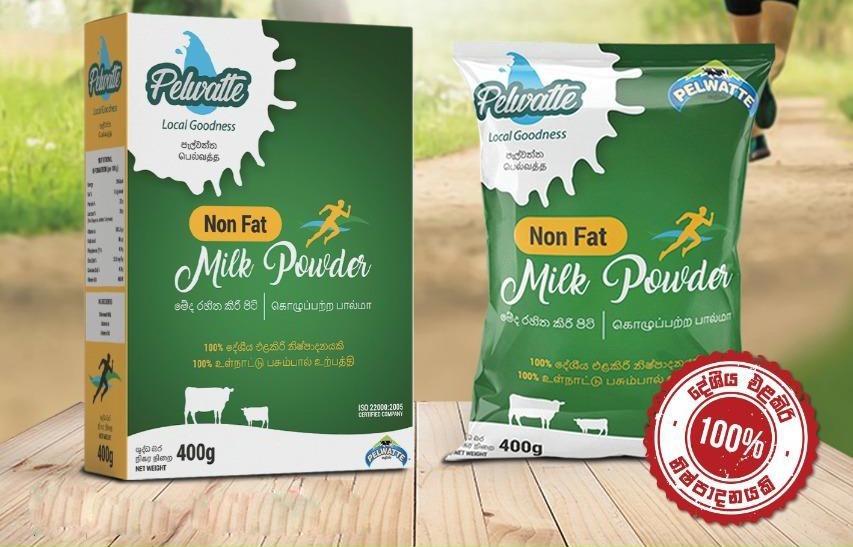 Pelwatte Dairy, one of the leading local dairy brands in Sri Lanka that produces a range of dairy goods and saves valuable foreign exchange for the country, has won the hearts of Sri Lankan dairy consumers thanks to its continued offer of Sri Lankan goodness to its dairy consumers. What is special about Pelwatte is that not limiting to its general range of whole milk powder, it also offers another locally produced milk powder that has qualities of a wholesomeness of milk powder protein in it multiplied.
Pelwatte Nonfat Milk Powder (PNFMP) is a dairy product that offers more health benefits compared to regular Full Cream Milk Powder (FCMP) as it has lower calorific value and less 'fat content'. The difference of the calorific value between FCMP & NFMP is in calories; though it may not seem like much, the lowered calorific values have a cumulative beneficial effect. It helps in overall reduction of body weight as "fat free milk powder" contains less fat in comparison to regular FCMP. Importantly, it helps in limiting your 'saturated fat' intake which impacts your cardiovascular health as any saturated fat in your diet increases the amount of bad cholesterol in your blood. Therefore, in contrast, nonfat milk powder such as Pelwatte (per serving) contains just 0.2g fat and just 0.1g of saturated fat.
Suneth Gunathilaka, the Research and Development Manager of Pelwatte explains: "Our dairy products are entirely made locally and are incomparable in freshness to the many other dairy products in the market that are imported. This is a unique value proposition we offer to our Sri Lankan consumers. Our Non-Fat Milk Powder is equally 'nutrient dense' in par with imported milk powders. Therefore, we take these quality offerings a step further with Pelwatte Non-Fat Powdered Milk (PNFPM). This is a go-to dairy product for the health conscious consumer segment in Sri Lanka."
Pelwatte Nonfat Milk Powder (PNFMP) has a real dairy flavor and is light cream in color that helps to maintain the body weight of its consumers. In addition to be containing lesser amounts of saturated fatty acids, PNFMP has added nutritional benefits that provide for bone composition – maintaining supply of nutrients such as protein, calcium, Vitamin D & Vitamin A. It has fewer calories and higher amounts of vitamins than whole milk powder. PNFMP reduces blood sugar, cholesterol levels, cardiovascular problems, and is invaluable in weight management. Pelwatte non-fat is a great aid to maintain lean muscles while supporting increased bone mineral density. Pelwatte non-fat milk has much less fat (only 1.5g) in comparison to whole milk powder which has 27g fat for every 100g. Dairy producers usually fortify milk with many nutrients. Milk proteins consist predominantly of casein and whey and when it comes to Pelwatte Non-Fat, it generally contains 34g protein. Along with many amino-acids, this protein supports a healthy immune system, and develops a strong circulatory system. Pelwatte non-fat is also packed with other nutrients such as 39g lactose, 4.7g minerals, 587.3 µg Vitamin A, and 400µg Vitamin D3, 46µg Folic acid, 0.9g phosphorus, and 32.5 mg/kg of zinc. PNFMP's vitamin B collection composed of riboflavin, vitamin B12 and with lesser quantities of thiamin, niacin and folate. Pelwatte NFMP has around 500kcal energy for every 100g while Pelwatte Non-Fat has 394 kcal which testifies to the make-up of nutrient contents in NFMP.