Solex Group of Companies have been honored with "Viswasarana Abhishekah" National Title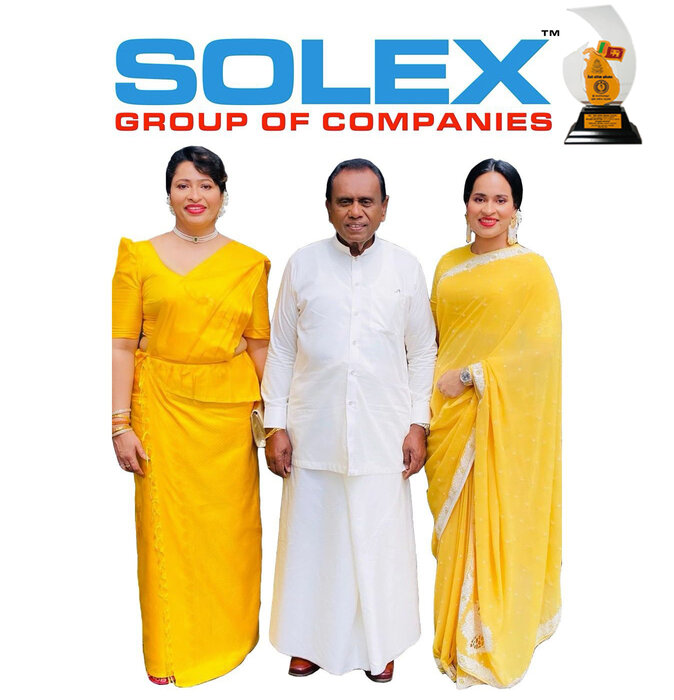 The Solex Group proudly received Viswasarana Abhishekah honors at the Thilina Puja – 21st Tribute Ceremony organized by Sri Jayewardenepura Guna Samaru Foundation at BMICH.
Congratulations to the Solex Group for being recognized with such a high honor from the Sri Jayewardenepura Guna Samaru Foundation for its outstanding services to consumers in Sri Lanka. As the No. 01 water pump manufacturer in Sri Lanka for over four decades, the Solex Group has built a strong reputation and trust amongst Sri Lankan consumers. The friendly and responsible services provided by the company are a testament to its commitment to meeting the needs and expectations of its consumers.
It is also commendable to note that the award was obtained from the hands of the Founder and Chairman Managing Director, Deshbandu Deshakirthi Lankaputra Upali Wijayasiri.
Solex, a truly Sri Lankan company, is committed to social responsibility and has launched several projects for the betterment of society for the past four decades. The provision of a cool and clean water management system for devotees at various locations in the island, including the sacred city of Anuradhapura, drinking water solutions for over 600 families in Kataragama and High-pressure water system for the Pinnawala Elephant Orphanage are some of the key projects. Solex continues to provide road barriers to the Sri Lankan police for the safety of the roads. For the year of 2023 numerous pro-bono water supply projects are in progress for the rural areas and for the health care facilities.
Solex Group's commitment to quality and innovation has made it one of the most trusted names in the water pump industry in Sri Lanka. The company uses advanced technology and state-of-the-art manufacturing processes to produce pumps that are durable, reliable, and efficient. The range of products offered by Solex includes Domestic pumps, Agricultural pumps, Industrial Pumps, submersible pumps, jet pumps, borehole pumps,sewage pumps, Fire pumps & Industrial Vehicles.
One of the key factors behind the success of Solex Group is its focus on customer satisfaction. The company has a dedicated customer support team that provides assistance to customers before, during, and after the sale. Additionally, Solex offers a comprehensive warranty and maintenance program to ensure that its customers have a hassle-free experience.
Deshabimani , Deshashakthi Manjula Wijayasiri (Deputy Chairman & Director of Operations) was awarded with Deshamanya Honorary title by the Sri Jayawardenapura Guna Samaru Foundation for her significant accomplishments and testament to her hard work.
Dr. Sandini. H. Wijayasiri. MD, BSc (Premedical & Health Sciences), Executive Director of Solex Group of Companies & Director of branding / Mass Media was honourably awarded with Deshamanya, Deshashakthi ,Deshabhimani , Viyaparabhushana , Vidhayapati, Janaranjana honorary titles by the foundation for her trailblazing efforts to empower rural communities to access water supply, clean drinking water and other projects at a young age.
We congratulate the entire team of Solex Group of Companies.