realme Maintains Strong Global Growth in Q4, enters TOP 5 Spot in Western Europe for the First Time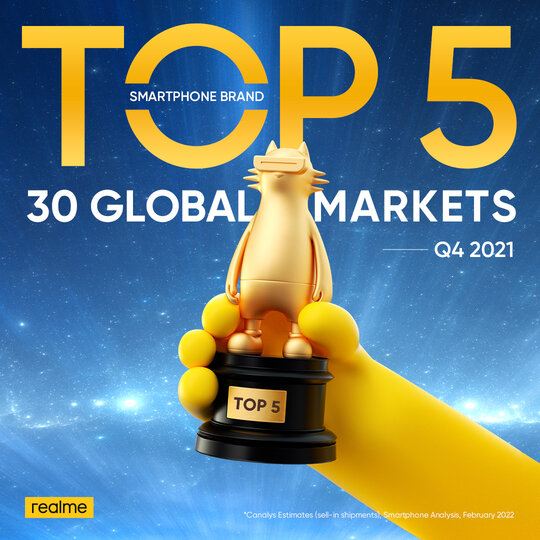 realme, the fastest-growing smartphone brand in the world and the youngest among world's top 6 smartphone brands, reports strong growth in 2021 fourth quarter.
According to latest Canalys data, realme's market share was ranked among TOP 5 in 30 markets and 6 regions globally in the fourth quarter of 2021, with No. 1 in the Philippines and Bangladesh. realme also entered newly into TOP 5 in several markets such as Peru and Columbia and even in the Western Europe region -Germany.
Shawn Yan, Head of Marketing – realme Sri Lanka said: "From the very beginning, our "Dare to Leap" spirit has made waves in the global smartphone industry. realme featured leapfrogging performance and trendy design with affordable price points which ensured our growth in South Asian markets of Sri Lanka and India. Canalys data showed that realme's market share in India rose to 17 percent, increasing 48 percent over the previous year. We have clearly seen a major demand spike for both smartphones and AIoT devices since realme's arrival. By November 2021 (the third quarter), we succeeded in entering the top ranking of being one of the top two smartphone brands in Sri Lanka based on unit share. This achievement would not be possible without our partners, stakeholders and employees whose expertise in their specific areas have immensely assisted us to grow rapidly within just one year."
Noticeably, realme has been the only brand among the top 5 to register positive growth in the fourth quarter of 2021 in India, the world's second largest smartphone market. In Europe, realme has achieved a new milestone with a YoY growth rate of nearly 450%, making it the fourth largest smartphone brand in the region. In Western Europe, realme has witnessed a whopping 1365% growth rate and stood as a TOP 5 smartphone vendor for the first time.
About realme:
realme is a global emerging consumer technology company disrupting the smartphone and AIoT market by making cutting-edge technologies more accessible. It provides a range of smartphones and lifestyle technology devices with premium specs, quality, and trend-setting designs to young consumers at affordable prices. Established by Sky Li in 2018 and driven by its "Dare to Leap" spirit, realme is the world's 7th largest smartphone company.
#ENDS#