Introducing the all-new, revamped range of Dandex anti-dandruff and scalp care solutions
Hemas Consumer Brands, a leading Sri Lankan FMCG manufacturer recently relaunched Dandex, its foremost anti-dandruff haircare brand. Dandex has been present in the market in Sri Lanka for 30 years and is a known expert for being able to tackle dandruff from the first wash. It is widely available around the country, reaching its consumers in various value pack sizes, and is a unisex product that has been designed to combat dandruff and maintain a healthy scalp.
Since its inception into the market, Dandex anti-dandruff shampoo has been specifically formulated to not only combat and prevent dandruff, but also to nourish, strengthen and moisturise scalp and hair. The new and improved Dandex shampoo comes in 3 unique variants, Cooling + Relief, Deep Clean + Nourish and Hair Fall Control. These three variants are specifically designed to cater to a host of different consumer needs based on their lifestyles.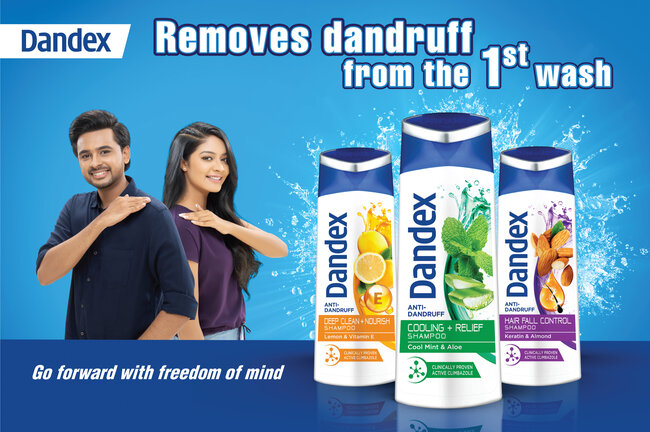 Each of these variants consists of an active ingredient known as Climbazole, which is clinically proven to directly target dandruff causing Malassezia and remove dandruff starting from the first wash.
The Cooling + Relief variant is aimed at controlling itchiness and discomfort caused by dandruff. It contains 100% natural extracts of mint to refresh and provide relief from scalp irritations and aloe, which conditions hair and moisturises the scalp and hair as well. The Deep Clean + Nourish variant is designed for those with an active lifestyle which consists of natural extracts of lemon and Vitamin E which not only provides a revitalising sensation but also provides a deep cleanse to scalp and hair that leaves hair supple and smooth after every wash, while adding back more nourishment for a healthier hair.
The Hair Fall control variant is designed to nourish and strengthen hair in order to prevent hair fall caused by dandruff. It consists of a blend of keratin and almond for an added moisture, strengthening hair starting from the root that leaves hair stronger and less susceptible to hair fall.
Launched in 1992 by Hemas Consumer Brands, Dandex is a pioneering anti-dandruff and scalp care solution in the market. The new and improved Dandex is specifically formulated to not only combat dandruff, but also to provide its users a refreshed and confident frame of mind as they will no longer have to fear the embarrassment of dandruff on their shoulders. Dandex is developed with the sole objective of keeping the scalp healthy for healthy hair to grow. This is cemented within the brand's all-new communications and packaging which allows users to clearly see and understand the clinical aspects and ingredients of each variant of Dandex.
END