Quickee.lk Reiterates Commitment to Eco-friendly operations with all-new green packaging initiative
Quickee.lk – one of Sri Lanka's foremost e-commerce platforms' has reiterated its commitment towards more sustainable, eco-friendly operations and processes with a renewed focus on recyclable packaging and green practices. To further strengthen this commitment, Quickee.lk has aligned with EFL 3PL, Sri Lanka's first carbon-neutral third-party logistics company, who shares the same values and focus on sustainable operations that ensures eco-friendly packaging.
As a brand that strives to be sustainable and eco-conscious, Quickee.lk is committed to provide customers with an overall service that is bar none; this includes the way customers receive their packages. As such, the all-new green packaging initiative employs sustainable materials and manufacturing techniques to help minimise the negative impacts of packaging on the environment.
The packaging for delivery has been redesigned to be more environmentally friendly and comes in a single colour to reduce on printing. The corrugated paper used is 100% recyclable and biodegradable and degrades completely within a maximum period of one year. Green initiatives such as this are no longer a novelty, however is a prerequisite for a company such as Quickee.lk in order to maintain sustainable operations in the future.
As a fully-fledged online marketplace, Quickee.lk is constantly on the move, innovating and revolutionising the e-commerce landscape of Sri Lanka with the aim of delivering ultimate convenience to its customers.
For more information about Quickee.lk and its products and services, please visit www.quickee.lk or call 0117 324 325.
Photo Caption: [U1] – Quickee.lk Spearheads Sustainability with Eco-friendly Packaging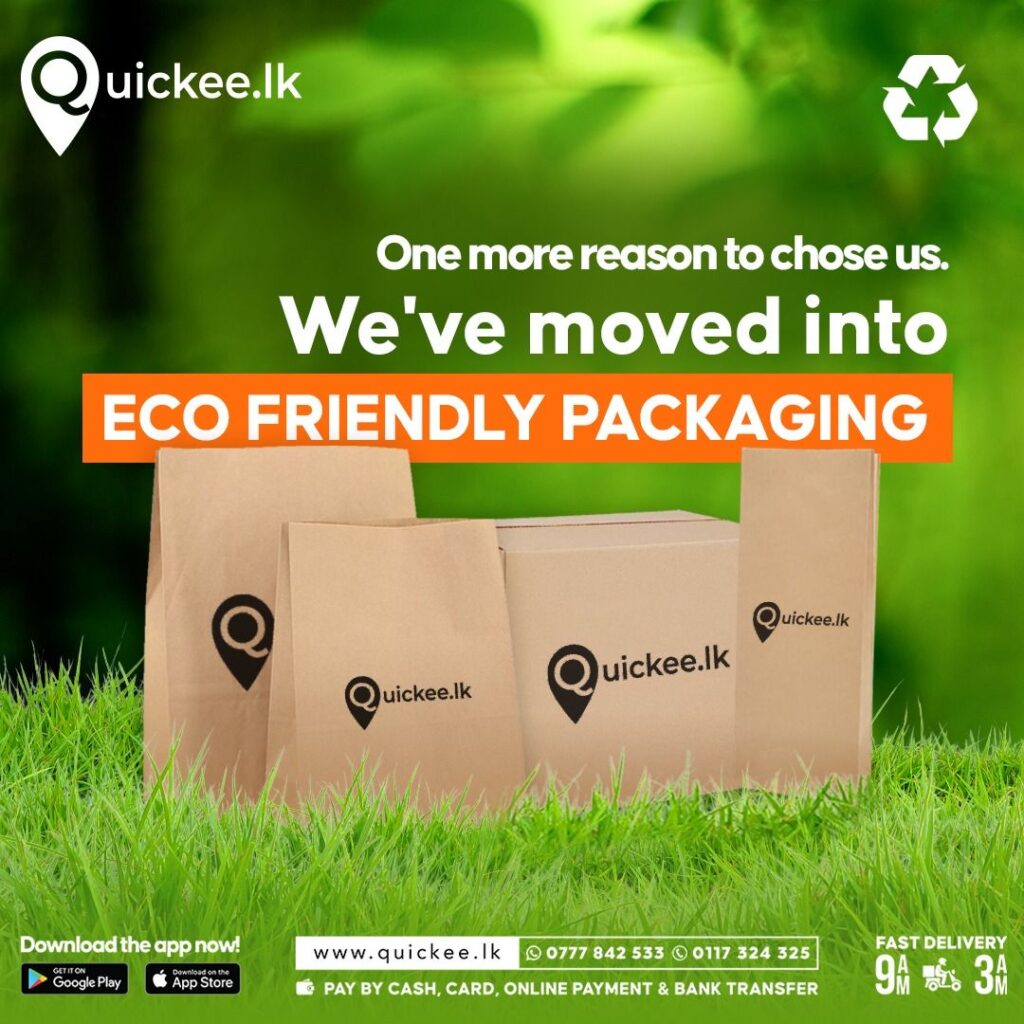 ABOUT QUICKEE.LK
Quickee.lk was founded in 2013 with the prime focus on delivering anything, anytime and anywhere. It was acquired in 2019 by Expolanka Holdings – the globally diversified conglomerate rooted in Sri Lanka with interests in logistics, leisure and ventures. Since the acquisition, Quickee.lk has been functioning as a multivendor marketplace and logistics provider to businesses and end customers alike. The company is highly dedicated to playing a multifaceted role in the delivery industry to better its customers' lives.
###
---
[U1]TBC